Dekanich, Klasen Impress in Hershey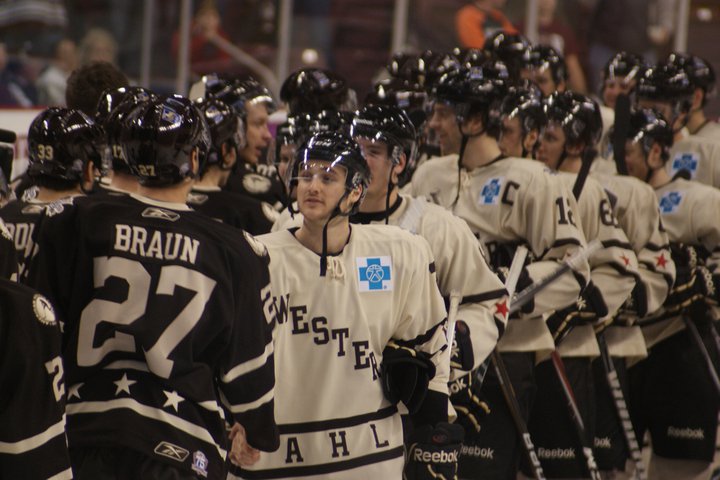 Mark Dekanich didn't come in until the third period, but he made the most of it.
Going 11:51 without letting in a goal in an All Star Game was only part of his impressive play.
"That's pretty rare I guess in an All Star game," Dekanich told Section303.com. "I wasn't really paying attention to it, I was just trying to stop the puck. Me and Linus had a fun experience and I'm pretty fortunate to be out here with all of these guys.
Try to stop the puck, he did, as on two consecutive plays, "Dexshow" made two highlight reel saves.
"I really wanted to try and get on TSN," Dekanich said. "Let's see if I can get on the Honour Roll at least."
It wasn't to be the Western Conference's night, however, as Dekanich inherited an 8-6 deficit going into the third period which they were unable to recover from. Dekanich did show up on the decision, however, as the West was able to rack up two goals while he was on the ice…giving him the loss in a game in which he was easily the best goalie on his team. The Eastern Conference ultimately prevailed on the back of four points (1G, 3A) from Bobby Butler of the Binghamton Senators.
"I thought it went well, it was a lot of fun," Dekanich reflected. "I had a good time out there."
Linus Klasen, on the other hand, was not the factor that he was expected to be after exploding onto the stage with his brilliant goal in the Skills Competition.
Three games and a Skills Competition in four days can do that to a player.
"It's not as many shifts, but they were long shifts," Klasen said. "It was pretty hard – it was a tough game."
Despite the fact that he racked up a point – an assist on Sergei Shirokov's second period goal – Klasen was obviously dejected with the loss, regardless of the game.
"I got a point – I should've got more," Klasen said.
As for the experience, "It was different. Obviously we had a good time and it's gonna be great to get back home…it was nice to be here. You're considered a top player in the league. I enjoyed it."
Dekanich shared Klasen's sentiment.
"It was awesome – it was great to get to know guys on the teams and play with a different group of guys," he said. "It was a lot of fun and obviously a huge honor to be voted into this game and I really enjoyed it."
"It's nice to see those guys, too," Dekanich continued, "because we never play an Eastern Conference team so it's good to get a look at all the great talent they have out East…I don't know very many of those guys over there."
"It's great meeting new guys and new players and seeing how good guys are in this league."
It would be hard to believe that after the way Klasen and Dekanich played, the players from the East didn't feel the same way.
—
PHOTO CREDIT: Sarah Fuqua