Dekanich Waiting On His Shot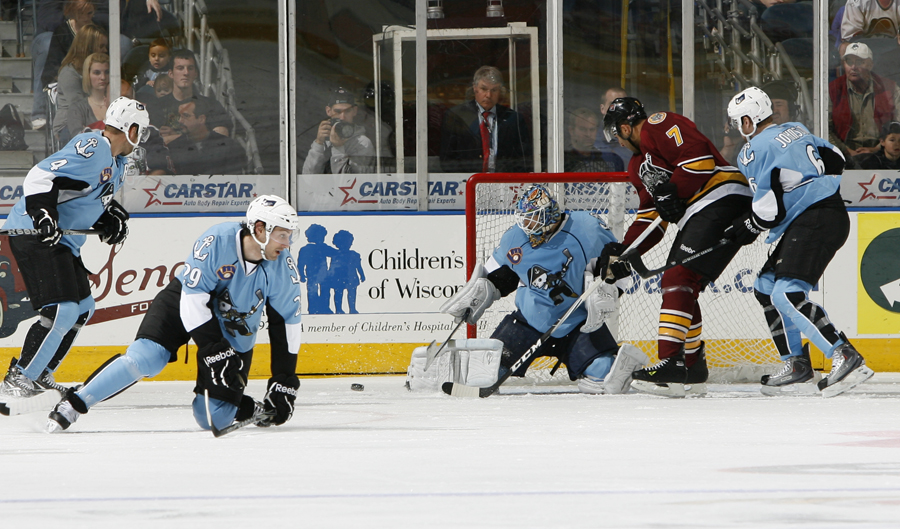 Mark Dekanich is ready for the NHL and he's doing everything that he can to prove it.
Through 10 games this season with Milwaukee, Dekanich is 7-1-1 with a league-leading 1.63 GAA and .941 save percentage.
""I think I'm ready to make the jump and that's what I'm trying to prove," Dekanich told Section303.com. "I've been playing well and that's my job. Trying to win games and help us climb up in the standings here and hopefully it'll turn some heads."
Dekanich made "the show" earlier this year, but it wasn't even for the proverbial "cup of coffee". It was more for a packet of sugar. For three games, Dekanich sat on the bench and watched his competition for backup goalie, Anders Lindback, reel off two wins while he sat on the bench and watched.
"It's great to watch NHL games with that perspective sitting on the bench. The skill of all the players on the ice is just amazing. It's a pretty cool experience in that regard. Also, playing in Chicago was pretty neat, too. Those were some great times."
There was another bright side to his brief stay in Nashville – he got a little extra on his paycheck…but he already has that set aside: "I'm saving it for my wedding."
This year marks a significant reversal from last year for Dekanich. He started last season at 5-5-2 with a 2.78 GAA and a .891 save percentage. It wasn't necessarily a horrible start, but it wasn't a fantastic one either. Management felt that he needed a kick in the pants to get going and reassigned him to the ECHL's Cincinnati Cyclones. All Dekanich did with the Cyclones was pick up two wins, save 51 of 52 shots, earn Player of the Week honors and – most importantly – earned a return trip to Milwaukee.
"I've never been handed anything in my career. I've always been overlooked and sort of the underdog in a lot of ways and that experience was no exception. I didn't think I was actually that bad and that's fine. They do what they need to do. I've just got to do my thing. And I've been doing it my whole career. That's what I do. Just stop the puck and worry about what I can control and that's it."
So, is "Dex" content with dominating the American Hockey League?
"Right now, I'd love to be number two to Pekka Rinne. That's my goal. That was my goal at the start of the year and it hasn't changed. I'm just trying to play my game. There's not much I can control other than myself. I don't make those decisions. I'm just trying to speak with my actions and do my thing."
Despite being 6'2″, Dekanich came to training camp as the "short" goalie between Pekka Rinne and Anders Lindback. What was it like being the "short" one during training camp?
"I'm not growing any taller. You get used to it. There's a lot of bigger goalies in the NHL these days so I'm more of an average size now."
Finally, Dekanich has been taking advantage of social media, using his Twitter account to allow fans a peek at his daily life.
"It's nice to know that people care and that I have fans out there, which is nice. It's a lot of fun to interact with fans and give them a different perspective on hockey players in general and what our lives are like and things like that. I just want them to know that we're regular people, too, and do a lot of normal things just like they do."
—
PHOTO CREDIT: Scott Paulus
You can follow Mark Dekanich on Twitter at @dexshow.