This realignment takes 32 teams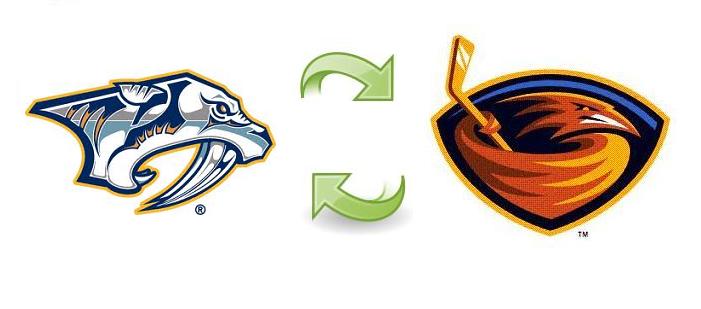 Sit down, Mr. Bettman. I'm about to solve all of your problems for you. Or at least, I would if major sports executives actually took all of their advice from blogs (which they should)…so humor me for a moment.
You currently have 30 teams. That's like having 30 apples. You're about to take one apple and move it to Winnipeg, which is kind of like taking the apple from the bottom of the fridge that you completely forgot about because you were busy trying to save the apple you had left in the microwave (and everyone knows you don't microwave apples) and sticking it into the back of the freezer. Of course, you have to move the rest of your fridge around to make everything fit…so what do you do?
Well, Mr. Bettman, you get two more apples.
And honestly, the apple analogy stops working about right here, so moving along…
As a licensed relocation expert*, I'm here to present you your solution. And here it is:
Add two teams.
But wait. Wait. Wait. Wait. Wait. Wait.
Wait.
"Aren't we having enough trouble holding the teams we have now?"
Well, that's really none of my concern. You're about to move a team to Winnipeg. I mean, can you think of one time in any business in the history of anything ever where moving to Manitoba for the dead of winter was considered the best strategy? I'm waiting…
Here's what you do – you stick a team somewhere in Canada. Do it now. History has shown that major league hockey teams don't fail in Canada, excluding the Montreal Wanderers, the Hamilton Tigers, the original Ottawa Senators, the Montreal Maroons, the Toronto Toros, the Calgary Cowboys, the Ottawa Civics, the Quebec Nordiques and the Winnipeg Jets. Whatever you do, you grab one of your two extra apples…er…teams…and stick it in Canada. Specifically, you stick that franchise in Southern Ontario. Major league hockey cannot fail in Southern Ontario…if you ignore the four times it did.
For your next magic trick, since you appear to love watching hockey played in the desert, you stick a team in Las Vegas. If hockey works in Phoenix, as you so clearly believe, it will work in Las Vegas, home of the Wranglers.
There's an underlying strategy to all of this, Mr. Bettman. You know how when you buy a peach at a store (why am I talking about peaches now?) and they sometimes come in a carton with a space for each individual peach? Well, what happens if you want to move one peach to another space and there is already a peach there? Well, you sure as heck can't move that peach there…that's for dadgum sure! By sticking a team in Ontario and another in Las Vegas, you take away two major relocation possibilities. If Southern Ontario is no longer an open market , where would the Coyotes move to? Hendersonville? I hear they are looking for a hockey team…
Now that the NHL has 32 teams – or apples…(wait, didn't I quit the apple analogy? I guess not) – you are going to need some baskets to put them in before you put them back in the fridge (no, I don't know why you would actually need a basket to put an apple in the fridge, but that's not really the point).
Mr. Bettman, go grab 8 baskets.
First thing I want you to do is grab your Canadian apples. No, Mr. Bettman, put the Phoenix apple down.
Your first division looks like this:
Montreal
Ottawa
Toronto
Third Ontario Team
Now grab another basket. In this one we put your other 4 Canadian apples.
Calgary
Edmonton
Vancouver
Winnipeg
Mr. Bettman, that sound you just heard was every Canadian's head exploding from pure joy.
Now we get to the tricky part. Grab another basket. Here's what goes in this one:
Boston
Buffalo
New Jersey Devils
New York Rangers
But what about the Islanders, you ask? WHAT ABOUT THE ISLANDERS? Well, shortly after Garth Snow has revoked your media credential for asking such incredulous questions, present him with this basket of apples:
New York Islanders
Philadelphia
Pittsburgh
Washington
What you are doing with the Islanders, Mr. Bettman, is saving a dying franchise. A franchise that has won 4 Stanley Cups. You are putting them into a division that your NBC contract already loves. Embrace it.
Get you another basket. Into this one we toss the following:
Chicago
Columbus
Detroit
Minnesota
But wait…you've got all of the hockey purists running down your neck about this one. How DARE YOU put two Original Six franchises in the same division as two EXPANSION franchises? Just point to the current Central Division and laugh.
After you are done laughing, you know the drill. Into this basket, we toss:
Colorado
Dallas
Phoenix
St. Louis
Yes, you have mostly just bankrupted the charter plane companies for both the Wild and the Stars, but hey…it's better than whatever you think you have now.
For your second to last magic trick, you're going to grab 3 California apples and one that is covered with glitter and regret. Into this basket, we put:
Anaheim
Las Vegas
Los Angeles
San Jose
And finally, Mr. Bettman, you know we wouldn't leave out our own favorite NHL club. Grab that last basket and savor the moment…
Carolina
Florida
Nashville
Tampa Bay
So there you go. I've presented you a 32 team league with 8 divisions of 4 teams a piece. Playoffs can even work the exact same way, except with 4 division winners instead of 3.
As for the regular season, each team will play the teams within their division 6 times a piece. They will then play the other teams in their conference 4 times a piece. Then they will play the 16 teams in the other conference once, working on an annual alternating home-and-home basis. You do this and you add exactly zero games to the schedule and everybody plays everybody at least once.
And, Mr. Bettman, if you've simply glossed over everything and had a tl/dr moment…I present it to you this way:
Eastern Conference
Atlantic Division
New York Islanders
Philadelphia
Pittsburgh
Washington
East Canada Division
Montreal
Ottawa
Toronto
Third Ontario Team
Northeast Division
Boston
Buffalo
New Jersey Devils
New York Rangers
Southeast Division
Carolina
Florida
Nashville
Tampa Bay
Western Conference
Central Division
Chicago
Columbus
Detroit
Minnesota
Midwest Division
Colorado
Dallas
Phoenix
St. Louis
Pacific Division
Anaheim
Las Vegas
Los Angeles
San Jose
West Canada Division
Calgary
Edmonton
Vancouver
Winnipeg
82-Game Schedule:
6 games each against division opponents.
4 games each against conference opponents.
1 game each against non conference opponents.
Playoff Format:
Division winners are seeded 1-4 instead of 1-3.
Everything else is the exact same.
Put all that together, plus a nice 10-year network contract…and baby…you got a stew going…
Now seriously, would it kill someone to get me an apple?
—
*Mr. Fuqua has neither a license in relocation nor expertise in any known categories.