Home-and-home series crushes Preds' playoff hopes…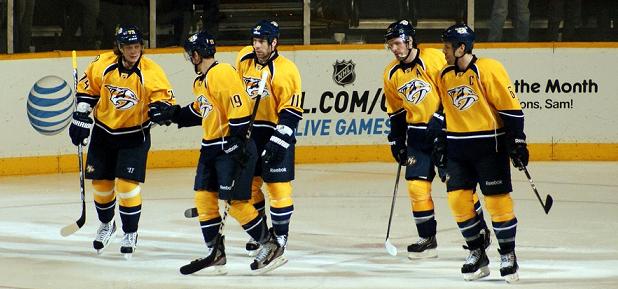 It was a tough task. To improve their chances of making the playoffs, the struggling Nashville Predators had to knock off the NHL's best team, the Chicago Blackhawks, in both games of their home-and-home series this weekend. Or, at the very least, get points in both.
Instead, they failed to get points in either.
Nashville dropped the first of two games 1-0 but they did a lot of things right, giving themselves confidence going forward. They had plenty of prime scoring chances in each period, got 29 saves from Pekka Rinne, had a tremendous hustle play in the final minute by Patric Hornqvist that made you want to personally go down to the locker room and sew Martin Erat's "A"  on his sweater and had two near-misses in the final seconds in an attempt to force overtime.
With the first loss — and Phoenix's win over Colorado that night — Nashville's chances of getting in the playoffs fell to just 2.6% according to Sports Club Stats.
On Sunday night in Chicago, the two teams hooked up for a second time in 36 hours and the Predators played well once again. They got goals from Nick Spaling, Shea Weber and David Legwand, took the lead midway through the third period, got 35 saves from Rinne and gave the league's best team all they could handle. But, in the end, it was the same ol' result: a regulation loss. Chicago's 5-3 win all but put Nashville out of the playoffs for the first time since 2008-09.
Speaking of playoffs, with the win on Sunday, Chicago became the first team to clinch a post season berth.
The Predators now have just a 1.4% chance of continuing their playoff streak of three years. They'll need to play error-free hockey, win their remaining eight games of the season and get some help from bubble teams like Dallas, Phoenix, Detroit, Columbus, St. Louis and Edmonton. If they win out, they still only have a 79.6% chance of making it in. And, with a single hiccup such as an overtime or shootout loss, their chances drop below 50%.
In short, it doesn't look good.
They can only do what they can do, however. They can't play games for other teams and they need only worry about themselves. As a result, they can help their own cause as early as Tuesday night when the seventh-place Blues visit Music City. Thanks to the back-to-back losses to Chicago this weekend, it is literally a must-win game for Nashville.
Puck drops at 7:00pm Central.
—
PHOTO CREDIT: Sarah Fuqua (used with permission)