Our favorite Anders Lindback moments: #1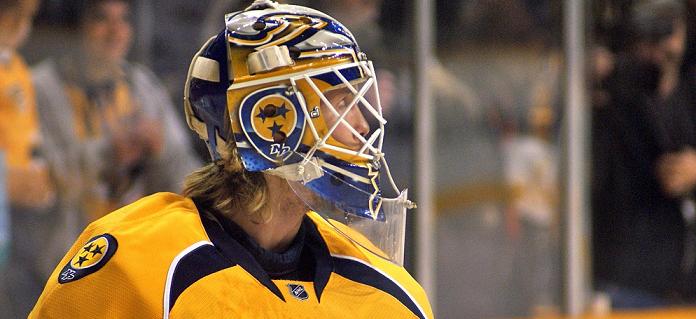 Few back-up goaltenders make a lasting impression on a fanbase. Even fewer do so who play less than 25 games a year. This is our tribute to Anders Lindback, who was traded to the Tampa Bay Lightning on Friday, June 15. Take care of him Bolts fans. He's a good one.
***
#1: HIS FIRST CAREER WIN
On the opening night of the season, Pekka Rinne went down in the third period thanks to a dirty play by Anaheim's Troy Bodie. On the bench was a young kid named Anders Lindback who had never played hockey in North America before and who wasn't supposed to see NHL action for quite a while.
Oops.
Lindback came in and stopped all seven shots he faced, preserving the win for Rinne. But coming into a game without any warning whatsoever allows you to just go out there and do your job without nerves becoming too big of a factor. Surely the next game, in Chicago, we'd see the real Anders Lindback, right? After all, they were the defending Stanley Cup Champions, the game was at the Madhouse on Madison and he had three full days to anticipate the experience.
All the Gavle, Sweden native did in his first NHL start was turn aside 23 of the 25 Chicago shots — including all 15 in the final two periods — to secure his first NHL victory.
He would then go on to lead the Preds to victory on home ice just 24 hours later against the St. Louis Blues and then to a shootout loss against the visiting Washington Capitals a couple days later.
His success (in October and December) allowed the Preds time to get Rinne back to full health and not rush him back into the lineup. That, more than anything else, was why Nashville made the playoffs last year and, ultimately, set the stage for their dramatic first round upset of the Anaheim Ducks.

—
RELATED READING:
—
HEADLINE PHOTO CREDIT: Sarah Fuqua // Flickr (used with permission)
VIDEO CREDIT: nhl.com