303 ON TOUR: Fulfilling a lifelong dream…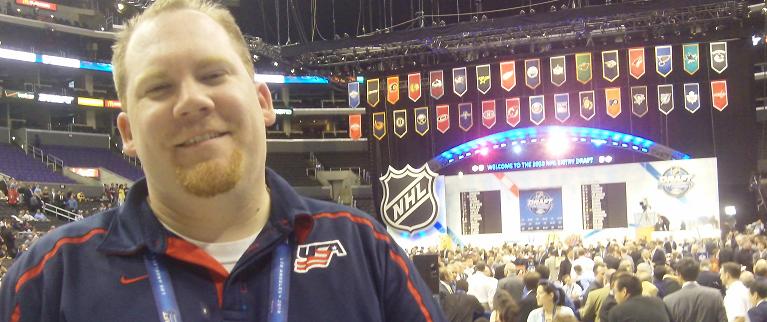 It was June 22, 1996. I had printed out team logos and put them on my wall in the order the teams would choose in the NHL Draft later that day. The plan was to print out each players name and tape it next to the team's logo who drafted him, just like they did on that big board at the Draft itself. The difference? These names would be printed off on a dot-matrix printer.
It didn't matter. I was going to have my own draft board no matter how I had to do it.
I'd been watching and following the NHL Draft ever since 1991 when the San Jose Sharks started to build their expansion franchise around Spokane Chiefs winger Pat Falloon. The Sharks couldn't draft Eric Lindros because the league decided that an expansion team would ruin his potential so they unfairly awarded the Quebec Nordiques the first overall selection.
It didn't matter. I was hooked. This Lindros guy was supposed to rival Wayne Gretzky and Mario Lemieux in skill level, this Falloon guy was about to become the face of my young hometown franchise and some guy drafted sixth overall named Peter Forsberg was about to prove he was better than both Lindros and Falloon combined.
But I was in California. Before the internet. Newspapers ran NHL box scores but zero NHL content, hockey cards were hard to come by and magazines that actually covered the sport were impossible to find. The San Francisco Bay Area wasn't exactly the best place to get information about the draft prospects.
It didn't matter. The do-it-myself draft board would help that. I figured, if I had those teams and players on my wall, I would see them every day and be able to commit them to memory. Who drafted who and what number overall and what Junior team they played for. It was the least I could do to learn more about this game I loved so much.
Fast forward 14 years.
My wife Lynn and I are planning on going to Las Vegas in the hopes I get media credentials through the National Hockey League so I can cover the NHL Awards for section303.com. All on hope, we book a room at the MGM Grand and book our flights on Southwest.
While waiting to hear back, I find out that Ryan Porth of RLD Hockey is also trying to cover the Awards but that he's also applied for credentials to the NHL Draft in Los Angeles, just 260 miles away. I like the idea so I bring it up to my wife and propose to her that it might be a good idea career-wise if I try for the Draft too. She agrees and I submit my application for that event as well. Besides, worst case scenario, I don't get approved for either event and we have a great week in Vegas and we keep our plane tickets status-quo.
A couple weeks later, I get an e-mail that will change my life (and career) forever. The NHL has approved me for media credentials to cover not one, but both annual events.
I always try to stay as professional as possible, always asking myself "what would a journalism-educated, print media member do in this situation?" Usually, the answer is one of the following: "stay professional," "don't get emotionally involved" or "don't be a fan." That usually keeps me pretty grounded and acting as I should. I've never been one to get star struck. I've interviewed a lot of athletes, comedians and musical artists over the past seven years and, while I've enjoyed the experiences, I've never once broken my professional character.
So while I was very excited about the opportunity to cover the events, I always kept my composure, even in the privacy of my own home when my wife and I would talk about it.
It's time to leave. As you probably know, I work for a nationally syndicated radio show that airs it's live show on Sunday nights from 9pm-2am. So, with my flight departing at 7:10am, there was no way I was going to sleep when I got home at 3:00am and had to be in a car at 5:00am. I used John Lennon: Imagine to stay awake until our good friends Kim and Richard, who were going to Vegas with us, came to pick us up at the aforementioned 5:00am.
Now, I'm not a good flier. As a matter of fact, I hate flying. It's probably the only thing on this Earth that terrifies me. I spend most of the flight praying, griping my wife's hand or listening to my iPod while trying to not remember that I'm on a plane. Let's be clear though, if you're in the seat in front of me – or even across the aisle – you wouldn't know I'm scared. I'm not vocal, I don't make animated movements and I don't even get sick. It's all in my head. So, basically, I'm in my own personal hell for about four hours en route to Vegas anytime there's the slightest bit of turbulence.
Go ahead and add that fear of flying to the fact that I've been up for 18 hours straight and I'm exhausted.
We land in Vegas at about 9:30am local time and catch a cab to the MGM. Once we get to the hotel, we find out we're not allowed to check in until 1:00pm. Which, in case you're keeping track, means I'll be up for 21 consecutive hours before I'm even allowed to look at a bed. Luckily, I'm just so thrilled to be on land that I'm confident I can make it.
1:00pm comes along and I'm dragging, big time. We go to check in at the front desk and they're having computer issues and are checking in guests – get this – by hand. They're literally imprinting people's credit cards and handing out room keys from a slew of rolodex boxes. Oh, and they were sold out of rooms for the night. I don't need to remind you how big the MGM Grand is and how many hotel rooms it has, do I?
Finally, at 1:45pm I get our room keys (we were third in line, by the way) and head up to room 8-552 and take a nap. It's now been 22 straight hours that I've been awake and I'm probably asleep within five minutes of hitting the pillow.
Tuesday gets here and, thanks to Inside Hockey blogger Michelle Kenneth, I hear about the Second Annual NHL Charity Shootout poker tournament going on at the Rio that afternoon. I have to head over to The Palms for the media access hour at 3:00pm anyway and the Rio is right across the street so I grab my laptop, my Kodak Zi8 and my voice recorder and jump in a cab.
I show up at The Rio without my press credentials as I have yet to go to The Palms to pick them up. I walk around the corner and see Nashville Predators Head Coach Barry Trotz (who is apparently playing in the poker tournament) and Preds Senior Vice President Gerry Helper. I introduce myself to Gerry and ask if I can speak with Barry for a little bit. He graciously agrees and my first interview of the week turns out not to be at either event I came to cover, but rather at a poker tournament that I only found out about an hour before hand thanks to Twitter.
Trotz and I talk for about 10 minutes about everything from his nomination of the Jack Adams Trophy to the poker tournament to the Jason Arnott trade.
After the interview, I head into the poker room and watch the final table of Dustin Brown (player, LA Kings), Jimmy Howard (player, Detroit Red Wings), Matt Barnaby (former player), Mark Napier (former player), Dennis Phillips (poker pro) and Kevin Sorbo (actor). All media was asked by the NHL to not reveal the winner of the tournament as ESPN was taping the event for air in December. So, all I can tell you is that two players (either current or former) went heads-up for the championship.
After the tournament was over, I walked across the street in the 103 degree heat to The Palms, the site of the NHL Awards the next night. It was time for the media availability portion of the event where the league brings out all three nominees of a particular award so they can be interviewed. I'll spare you the play-by-play for this event but I will share with you that Calder Trophy nominee Tyler Myers was the first player I talked to, Trotz was interviewed the longest out of any of the nominees in any category (which I found odd) and I finally had my "is this really happening" moment when I talked with Hart Trophy nominee Henrik Sedin.
Just 11 years ago, I remember watching the 1999 NHL Draft where then-Vancouver Canucks General Manager Brian Burke engineered several trades that eventually gave him both the second and third picks overall. He then took the stage and drafted both Henrik and Daniel Sedin to ensure the twins would continue to play on the same team, like they had their entire lives. (If you need a reminder of exactly how hard it was for Burke to make that trade, read this.) I remember that like it was yesterday and here I was, in Las Vegas, Nevada asking an MVP candidate, that I watched get drafted, how his career has gone since then.
At this point in the day, I had probably talked to seven or eight different players but this was the first time that I realized what I was doing. It was the first time that I realized that I had "made it." It was the first time that I realized that I'd dreamed of doing this since I was a teenager and here I was doing just that.
For the record, I kept my composure. The epiphany was all mental. After he was done answering the question, I had to step away and just smile to myself.
The rest of the day went off without a hitch. Got the interviews I wanted (except Martin Brodeur who was an unexpected no-show) and met back up with my wife and friends so we could watch the Fremont Street Experience that night.
Then came Awards Day Wednesday. I headed over to The Palms and got my seat alongside Porth and Buddy Oakes of Preds On The Glass. The entire Preds media contingency was right there in one row. No Tennessean. No City Paper. No 104.5 The Zone. Just three Nashville bloggers spending their own money, using their own vacation days and spending their own time in order to bring you the news from one of the NHL's biggest days of the calendar year.
Surprisingly, media has to watch the Awards on TV monitors inside a media room and not inside the actual venue. This proved great for accessibility to the winners but terrible for covering the event as the TV's had to be muted while the award winners were on the podium taking questions. Luckily we did get to watch the Bobby Ryan vs. Ryan Getzlaf bit because that crap was hilarious.
Anyway, so once the show was over, most of the nominees mingled in the media area talking to old friends, taking pictures with kids and signing an autograph or two. This is where I finally got a chance to interview the best goaltender of all-time Martin Brodeur of the New Jersey Devils. I only got to ask him three questions but it was a moment I will remember for a long long time.
In Brodeur's rookie season, I watched him play an amazing playoff series against the New York Rangers in the Eastern Conference Finals. Not only did the series go all seven games but it required double overtime to decide who played for Lord Stanley. Brodeur was absolutely spectacular and every bit as good as Mike Richter at the other end of the ice. He single-handedly turned me into a Devils fan that day and it's still the best hockey game I've ever seen. So, to be able to interview him 16 years later, even for just five minutes, was an honor and an experience that I'll be telling my children about.
Friday came and it was onto Los Angeles, California, home of the 2010 NHL Draft. I arrived, picked up my press credentials, met up with Porth with whom I was rooming with for the night and we headed to Staples Center. We were able to take in all the event festivities out front, watching kids play street hockey, seeing just about every jersey you can think of, including a guy who had used masking tape to personalize his Edmonton Oilers jersey with "Hall 4." It was outstanding seeing all those people, from all walks of life, celebrating hockey in a non-traditional hockey area like Southern California.
We then headed into the venue and found our assigned seats. Thanks to alphabetical order, we were only seated three seats away from each other and our view of the Draft was absolutely amazing. It was like we'd bought tickets at center ice for the biggest game in town. Just one more bonus in an otherwise already amazing week.
All of a sudden it hit me. 14 years ago I was printing out team logos and player names to make my own draft board and here I was today looking at the real thing. And not only was I looking at the real thing, I was wearing a lanyard that gave me privileges I never thought I'd really have: access to the draft picks and general managers.
I always wanted to go to an NHL Draft and always vowed I'd get to one. Instantly it became worth it. I had waited all these years and my first draft was more special than I could imagine. I was like a six-year old on Christmas morning. I couldn't contain my smile. I was really there. This was really happening. I was really wearing that lanyard. Words could not describe my enthusiasm but despite that, all I could do was prepare blogs for what was about to go down over the next few hours.
It's no secret that I wanted the Predators to pick Emerson Etem at #18 overall. I've blogged and tweeted about it many times and there was no hiding my bias. So, when he was actually available when Nashville picked in the first round, Porth looked at me and said "Uh-oh" and I smiled with excitement.
The Preds ended up passing on Etem and selecting Austin Watson with their first pick but that was just fine with me as Watson was my back-up choice. But, honestly, who Nashville picked didn't matter. They could've taken a defenseman for the fifth time in eight years and I still would've been absolutely elated to report it. The fan part of me would've been pissed but the media part of me would've been elated.
And that's what I was doing there, being a member of the media. For the first time. Oh sure, I'd covered the Predators during Training Camp and the pre-season last year but this meant something more. This was a league event that was being broadcast all across North America that was going to change people's lives forever one pick at a time. And, to top it all off, the NHL themselves approved me to be there, with the same access ESPN, TSN and CBC get.
It's amazing to think that this opportunity presented itself. And it's incredible that the league, which often gets things wrong, fully acknowledges that social media and blogs is the wave of the future. It's very comforting to know that one of the four major sports – and I do mean one – has the foresight to get it right and is embracing it. And I'm just so blessed and thankful to be apart of it.
I just know that there's a kid, in a non-traditional hockey market somewhere, that dreams of doing what I just did this past weekend. Well kid, you're me 14 years ago and, now, I believe in you.
After all, if I can do it, you can do it. Just remember: work hard, embrace your passion and surround yourself with good and supportive people. If you do those things, it'll be you who's writing this blog in 14 years.