Barry Trotz just a single win away from 500…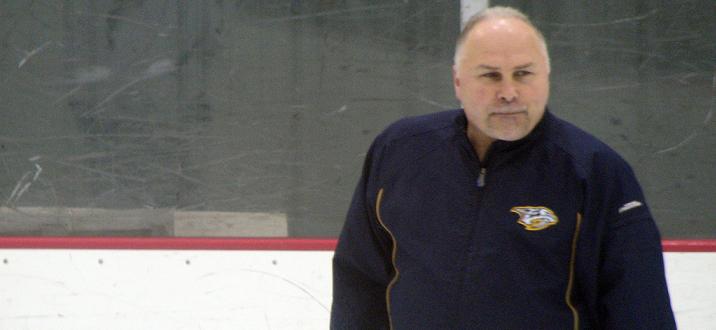 There have been only 16 men to ever coach NHL teams to 500 victories. Nashville Predators Head Coach Barry Trotz is about to make it 17.
With his next victory, the Dauphin, Manitoba native will tie the legendary Toe Blake with 500 regular season wins. And his first chance to do it? Tomorrow night against fellow-500 game winner Ken Hitchcock and the St. Louis Blues.
"It's one of those things that I don't think about it until you bring it up," Trotz said. "It means that we've had some success. You can't get those kind of numbers without having some success."
The always humble Trotz was reluctant to take credit for the milestone.
"I always look at it as more team than I do individual," Trotz said. "It's a tribute to the players that have played and the scouts and the organization for putting a good team on the ice and hopefully me helping orchestrate the group in the right areas so we can be successful.
"As a head coach, you may get a win under your name but it's really more of an organizational win."
Goaltender Pekka Rinne, who is responsible for 136 of the 499 wins, feels honored to be a part of the inevitable moment.
"It'll be huge," Rinne said. "It's a big milestone. It says a lot about this organization's mindset, how they've always had so much belief in Trotz and all of the coaches. He's done a lot of right things, this organization has done a lot of right things and, personally, I feel like there's even better days ahead. All of those things played a big role in my re-signing here. "
Jordin Tootoo is a player Trotz has coached since 2003 and while he gave more of a company line comment, he couldn't help but smile.
"Right now it's one game at a time," Tootoo said. "But when we're winning, everyone's winning. It's amazing how all of this individual success comes along with winning (as a team)."
So how exactly does this compare to other clubs? As you can see by the table below, Trotz and the Predators have done something really unique. Trotz isn't just the only head coach the organization has ever known but the club has had the quickest route to regular season success out of all nine post-1990 expansion franchises.
EXP. YEAR
FRANCHISE
YRS IN NHL
WIN #500 DATE
GAMES TO 500
COACHES
1991
San Jose Sharks
20
1.05.2008
1,246
7
1992
Ottawa Senators
19
12.05.2007
1,145
5
1992
Tampa Bay Lightning
19
3.25.2010
1,356
7
1993
Mighty Ducks of Anaheim
18
1.27.2009
1,166
7
1993
Florida Panthers
18
3.09.2010
1,263
10
1998
Nashville Predators
13
3.25.2012 (499)
1,060*
1
1999
Atlanta Thrashers
12
n/a
977*
7
2000
Minnesota Wild
11
n/a
895*
3
2000
Columbus Blue Jackets
11
n/a
895*
7
* through March 25, 2012
.
The Predators have accomplished all of this in just 13 seasons and with only one guy behind the bench. For perspective, the Columbus Blue Jackets came into the league in 2000, have had seven head coaches in their existence and have yet to win 350 games. The Minnesota Wild, who also came into the league in 2000, have had three head coaches and just recently won game number 400. Perhaps the closest comparable, however, would be the Atlanta Thrashers. They came into the league in 1999, just a year after Nashville, and have featured seven coaching changes, a single playoff appearance, have never won a playoff game, have only 377 wins (through March 25) and have even relocated to Winnipeg, Manitoba to become the second installment of the Jets.
Trotz already holds the record for most victories as the first head coach of an organization but he's about to join some elite company. Jacques Lemaire, Pat Quinn, Mike Keenan and Al Arbour are all members of the 500 win club.
"It's weird for me," Trotz said about being listed among the elite coaching names in NHL history. "I grew up idolizing Bobby Orr, as a player. So it must be like a player who idolized Bobby Orr and, all of a sudden, your name is right next to Bobby Orr. It doesn't seem right because those are your idols."
Hall of Famer Scotty Bowman has the most wins ever by an NHL bench boss with a ridiculous 1,244 victories. Of course, you tend to win a lot of regular season games when you lead an NHL record nine — count 'em nine — teams to a Stanley Cup Championship.
After he catches Blake, it won't take long for Trotz to catch the next guy on the all-time list. The late Pat Burns won 501 games behind the benches of the Montreal Canadiens, Toronto Maple Leafs, Boston Bruins and New Jersey Devils.
—
SPECIAL THANKS to Ryan Stenn of the San Jose Sharks, Peter Pupello of Tampa Bay Lightning and Lauren O'Gorman of the Anaheim Ducks for their fact finding help on this project.
—
PHOTO CREDIT: Paul Nicholson // Flickr (used with permission)