Early penalty kill gives Preds a chance to rebound from Thursday…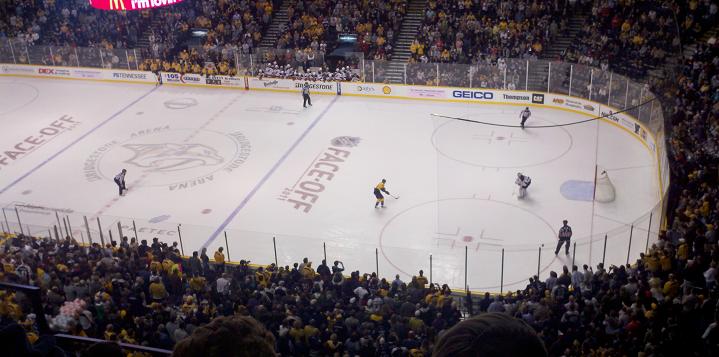 After Thursday's putrid performance at their own home opener, the Nashville Predators needed to show the hometown faithful that they could redeem themselves.
While they did lose their second game in a row, they managed to get a point in the standings via a shootout loss to the New Jersey Devils. In a conference where every point helps, it's easy to see how things could've been a lot worse.
Just 1:10 into the game, veteran forward Jerred Smithson took a hooking penalty and put the visitors on an early power play. If Nashville allows a goal in the opening moments they probably don't even secure the one point.
"Obviously we never want to take a penalty that early," said Nick Spaling. "If you go down one early, coming off of Thursday's game, it can put you in a hole. It was big to get that kill."
Head Coach Barry Trotz agreed.
"You want to build the momentum at home. If you don't kill that off, it's sort of a 'here we go again' type of thing. It would have been a dagger for us if we didn't get through it."
New Jersey failed to convert on that important opening power play and one man was directly responsible. Nashville goalie Pekka Rinne was outstanding on this night, finishing with 39 saves on 41 Devils shots. If there was any debate, look no further than the 13 stops he had to make in the first period alone.
"He's the best penalty killer out there and he proved it," Spaling said. "On the bench, in a game like this, when he's making saves like that, it fires you up. It makes us want to get one back for him."
The 6'5″ Vezina Trophy finalist did what he's done best over the past few seasons: kept his team in games. And, in the wake of the Phoenix game, that's a good thing. At the end of the day, though, it was a 5-on-4 power play early in the final frame that the Devils used to chip away at the Predators 2-0 lead.
The moral of the story? Your goaltender can only carry you so far.
"I felt great," Rinne said. "I think the whole team played better than the last game but we took a couple penalties and they executed. That was the bottom line."
Rinne and the Preds will try to get back to their winning ways when they go to Western Canada next week. They'll take on the Edmonton Oilers on Monday, the Vancouver Canucks on Thursday and finally the Calgary Flames on Saturday afternoon before returning home.
All three games will be broadcast on 102.5 The Game and televised on either FS-Tennessee or SportSouth.
LEFTOVER THOUGHTS:
* Injured forward Patric Hornqvist participated in pre-game warm-ups and decided he was healthy enough to play. Niclas Bergfors was the late scratch.
* Sergei Kostitsyn was awarded a penalty shot in the first period after being hauled down with what would have been a breakaway. New Jersey goaltender Johan Hedberg made the save, however.
* David Legwand and Kostitsyn extended their scoring streaks to four games with their assist on Colin Wilson's goal.
* Wilson's tally extended his own scoring streak to three.
* Nashville took nine penalties tonight. New Jersey took just five.
* There wasn't a single penalty called after the second period.
* Brian McGrattan and Cam Janssen went toe-to-toe at center ice during the second period. The fight went on and on…. and on…. and on. While both got good shots in, McGrattan was the clear victor, even pumping up the crowd during the bout.
* Ilya Kovalchuk scored the shootout winner.
* After David Clarkson dangerously boarded Ryan Suter from behind, Shea Weber came in and took care of business on behalf of his defense partner. Weber would get two minutes for roughing but Clarkson got a major penalty for boarding. Suter would return.
MY THREE STARS (as selected with 6:12 left in regulation)
1) Pekka Rinne (NSH)
2) Ilya Kovalchuk (NJ)
3) Colin Wilson (NSH)
THE THREE STARS OF THE GAME:
1) Ilya Kovalchuk (NJ)
2) Colin Wilson (NSH)
3) Johan Hedberg (NJ)
—
PHOTO CREDIT: Jeremy K. Gover // section303.com