Enough is enough. The Nashville Predators need a roster shake up…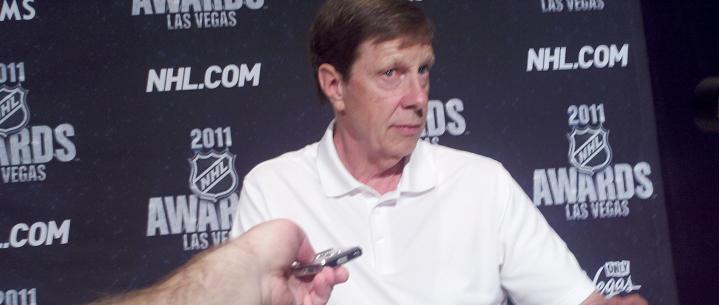 In their last six games, the Nashville Predators have scored seven goals. Five of those having come in one game. In their three contests between February 9 and 12, they scored a mere two. And they tallied just two others in their three games between January 24 and 28.
As you can see, this is not just an isolated incident.
When your goaltender has a 2.10 goals-against average and a .918 save percentage, you shouldn't be 9-8-5. But that's what the Predators are. They have a back-to-back Vezina Trophy finalist between the pipes in Pekka Rinne and have allowed the fifth fewest goals in the Western Conference, yet they sit on the bubble of making the playoffs all because they can't find the back of the net.
Sure, they had those three games in February where they tallied five (twice) and six goals but that was the exception, not the rule. And they weren't in consecutive games either. Nashville has been shutout five times already this season and they've only taken the ice 22 times. Add that to the four games in which they've scored only once and the Predators have failed to score at least two goals in nearly 41% of their games.
Simply put, they can't score with any kind of consistency.
The team in gold has the worst goals-per-game average in the NHL (2.00), the fewest shots-per-game (24.1) and only the Minnesota Wild have scored less times (but they've played two less games). In addition, the Preds have just two players with double-digit points while, for contrast, the St. Louis Blues have 10 such players.
There's certainly enough talent on this roster to get on the scoreboard every night. After all, this is basically the same team (minus Ryan Suter and the late-season additions of Andrei Kostitsyn and Alexander Radulov) that posted the best power play and eighth-best offense in the NHL last year. But, for whatever reason, things just aren't clicking during the 2013 lockout-shortened campaign. And, if they want to make the playoffs for the eighth time in nine years, that needs to change. Fast.
There are 26 games remaining on the schedule and 15 until the trade deadline. There's still plenty of time to right the ship. The problem Nashville faces is that they've shown very little promise in doing so. If they were playing amazing hockey and just getting bad bounces that would be one thing. But this is a team who has looked uninspired at times (see: this past Wednesday vs. Anaheim), unmotivated at others (see: January 24 vs. St. Louis) and having ventured away from their defensive identity in others (see: February 18 vs. Colorado and February 25 vs. Dallas). The lack of offensive production has forced them to over-think on the ice and, as a result, they just don't have any swagger.
Coaching is not the issue and, quite frankly, it's impossible to imagine the Predators organization without Barry Trotz at the helm so let's rule out a coach firing immediately. He's done a tremendous job with what he's been given year-in and year-out since the team's inception in 1998 and has guided this franchise to numerous playoff appearances when fellow expansion clubs like Atlanta/Winnipeg and Columbus have yet to win a playoff game during their entire existence.
Which brings us to the next best option: shake up the roster.
Just as a coach does when his team isn't playing well in front of his goaltender, he'll make a change to shake things up. More often than not — especially when the goalie wasn't at fault for the poor start — the team responds. General Manager David Poile needs to make a move that will, hopefully, warrant the same kind of response.
When he brought in Hal Gill, Paul Gaustad, Radulov and the elder Kostitsyn around trade deadline time last year, there were many who accused him of "messing with the team's chemistry." The Predators were challenging the St. Louis Blues and Detroit Red Wings for the Central Division crown and adding not one, not two but four players for the home stretch and playoff run was risky. It would mean some guys who have put in their time all season long would have to sit. Others would have to rotate in and out of the lineup. All would have to understand and put their ego's aside for the good of the team. Fortunately for Nashville, they did just that and the 2012 Predators finished strong, barely missing a beat.
Well, this situation is the opposite of that.
The 2013 Predators aren't playing well at all and are too inconsistent to ruin any chemistry. Therefore, worst case scenario, they make a couple moves to shake up the roster and they don't make the playoffs anyway. Nobody will complain that Poile should have "left the team as-is back in March."
Best case scenario, it wakes everybody up and they can re-discover their scoring touch from a season ago.
Again, this roster is too talented on paper to be this dormant offensively. Does it boast any superstars? No. Does it even boast a 30-goal scorer (in a full year)? Probably not. But it does have the capability of a balanced attack. With 50-point guys such as Martin Erat, Mike Fisher, Sergei Kostitsyn, captain Shea Weber and David Legwand as well as 40-point players like Patric Hornqvist and Colin Wilson, this team has the potential to roll three lines and be able to score at any moment. From the aforementioned names, only Weber and Wilson have pulled their weight this year and Nashville needs the others to step it up. Heck, even fourth liner Matt Halischuk had 15 goals and 28 points last year. Where'd his production go? He has just one point in 2013.
Something just isn't right and Poile and the Preds need to address it before it's too late. And we're coming up on too late.
—
PHOTO CREDIT: Jeremy K. Gover // section303.com