Flyers have put Poile, Preds in a no-win situation…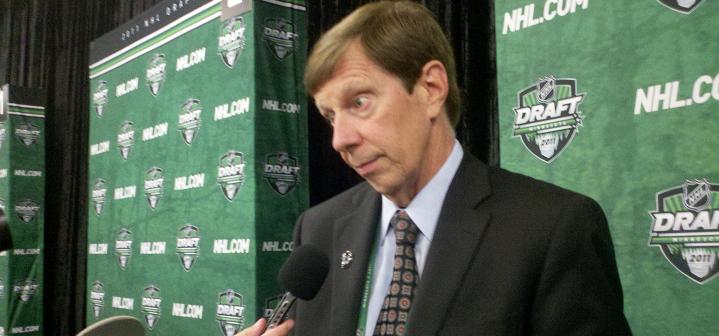 You would expect something like this to go on between two division rivals. Or, at the very least, two conference rivals. Two teams that are in direct competition with each other in their quest for the ultimate prize: Lord Stanley's Cup.
Instead, the Philadelphia Flyers of the Eastern Conference have put the Nashville Predators of the West in a serious bind.
Last Wednesday night, Philadelphia took advantage of his restricted free agent status and tendered Predators captain Shea Weber a 14-year, $110 million offer sheet. Weber signed it, giving Nashville seven days to either match it or decline and receive four first round picks in compensation.
While every fan in Music City (and every fan in the East, sans Phili) is gnawing off their fingernails waiting for General Manager David Poile to match the offer and put this issue to bed, this is actually a lose-lose situation for the Predators.
IF THEY MATCH
If Nashville does what everyone thinks they'll do, they'll have secured the league's best all-around defenseman for another 14 years, basically making him a Predator for life. But it's not all roses if that happens.
The cap hit isn't all that scary. Especially considering they offered Ryan Suter around the same money on a shorter term. What is scary, however, is the up front money. Due to the structure of the offer sheet, Nashville would be on the hook to pay Weber $27 million over the next 11 months. The same 11 months that they can't trade him according to the current collective bargaining agreement. So, in short, there's no way around the $27 million. Can a small market team like Nashville afford that kind of cash?
If that wasn't scary enough, the deal calls for Weber to receive $54 million over the first four years. Best defenseman in the world or not, that's a lot of money to commit to one player in a short period of time. Especially on the heels of his All-Star defensive partner misleading the franchise and bolting for another team a couple weeks ago, thereby taking them out of the conversation of "Stanley Cup contender."
And what if Weber wants out now that Suter's gone?
PROS: Weber locked up long term, plans to build team around him can continue, still considered fringe contender, can hit "re-tool" button instead of "re-build" button.
CONS: risk Weber being unhappy, does up-front money hamstring team for the near future?
***
IF THEY DON'T MATCH
If the Predators ownership group decides not to match, the Flyers have not only snagged the best defenseman in the league for just a handful of low first round draft picks but they've also served a near-fatal blow to the ownership group's reputation. And, in a non-traditional market like Nashville where the casual fan puts you in the black, a good reputation is invaluable.
Nashville was supposed to become a destination franchise thanks to the team being competitive every year and, for the first time, with Poile given the green light to spend, spend, spend. Everyone from Poile to ownership to Head Coach Barry Trotz was saying "we're going to be a cap team next year." Ownership is even on record as recently as a month ago saying "we're not going to lose players (anymore) because of money."
If that's the case, then you match without thinking. But the Predators are thinking. And they're taking their time doing so. Which worries people.
Not matching means the owners aren't willing to put their money where their mouth is. And what's the easiest way to lose respect? Empty threats. It will take a long time to recover if they chose not to match the offer. Would the newer season ticket holders tolerate going from contender to rebuild?
But that's not all. Remember "The Big Three?" Suter is already gone, Weber would be gone and Pekka Rinne is left all alone to fend for himself, just eight months after signing a seven-year extension. What would your back-to-back Vezina Trophy-nominated goaltender think? His window of opportunity is smaller than Suter's or Weber's as he's about to turn 30 in November. While he's not the kind of guy to demand a trade, would he be as invested in a "rebuild?"
And what about trade deadline acquisitions Hal Gill and Paul Gaustad? They re-upped with Nashville before free agency under the assumption and belief they were close to a Stanley Cup. What was not to like? They had one of the best netminders in the game behind them, they had the best defensive tandem in the league next to them and they had a structure rarely seen in today's pro sports landscape: the same General Manager and Head Coach for the existence of the franchise.
Since they re-signed, however, they've seen Suter walk and, if they don't match, Weber walk. And for what? Four draft picks that probably won't be in the NHL until both Gill and Gaustad have moved on?
Finally, Poile has to re-live the Scott Stevens nightmare all over again. (Not familiar? Click here.)
PROS: large sums of money can now be used on future players/free agents, flexibility of turning four first round picks into roster players via trade(s).
CONS: PR disaster, Weber walks for less than half his value, team forced to hit "reset" button, Rinne, Gill and Gaustad may be unhappy, ownership group's commitment and trust questioned.
***
The bottom line is this: If Nashville decides not to match and receive the four first round picks as compensation, what's the likelihood that any of the four turn into the next Suter or the next Weber? Heck, what's the likelihood that any of them turn into the next Kevin Klein? Predators scouts (especially over the past five years) have been absolutely incredible in identifying talent and then waiting for the right time to grab said talent. But there's no guarantee. And Weber is just now entering the prime of his career. Are they really going to let a future Hall of Famer who's scored more goals in the last seven years (99) than any other defenseman walk away in hopes that one of the four picks pan out?
Regardless of the consequences that Philadelphia has forced upon them, the Predators absolutely must match. The popularity momentum in this city was at an all-time high. After all, they were coming off a first round triumph over the arch-rival Detroit Red Wings and they became the only team in the West to make the second round the last two seasons. But all of that momentum has stalled with Jordin Tootoo going to the dark side, Suter jumping ship unexpectedly and Weber signing an offer sheet.
This is a way to get it back and still be within striking distance of a Cup run.
—
PHOTO CREDIT: Jeremy K. Gover // section303.com