Franchise record extended! Preds sellout eighth straight…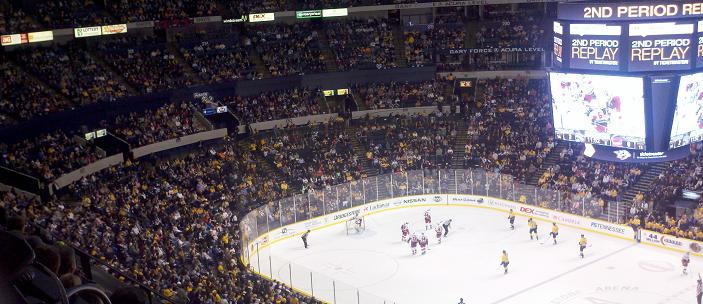 17,113 fans have filled Bridgestone Arena once again tonight, extending the Nashville Predators franchise record for consecutive regular season sellouts.
Tonight, the Preds made it eight.
Nashville has now sold out consecutive games against the Carolina Hurricanes (tonight), Dallas Stars (Thursday), Calgary Flames (New Years Day), Minnesota Wild (12/28), Detroit Red Wings (12/26), Columbus Blue Jackets (12/23), St. Louis Blues (12/17) and Red Wings again (12/15).
The streak could very well extend all the way to 11. The team is now at eight, next Thursday's contest against the Colorado Avalanche (the second half of a home-and-home series) should be nine, next Saturday's tilt against the Philadelphia Flyers should easily be 10 and then the following Saturday's game against the 2010 Stanley Cup Champion Chicago Blackhawks should make it 11. While nobody hopes it does, the streak will most likely end when the lowly Columbus Blue Jackets come to town on a rare Monday night visit.
—
PHOTO CREDIT: Jeremy K. Gover // section303.com