FROM THE WARDEN: Let's make it 7 (straight sellouts)!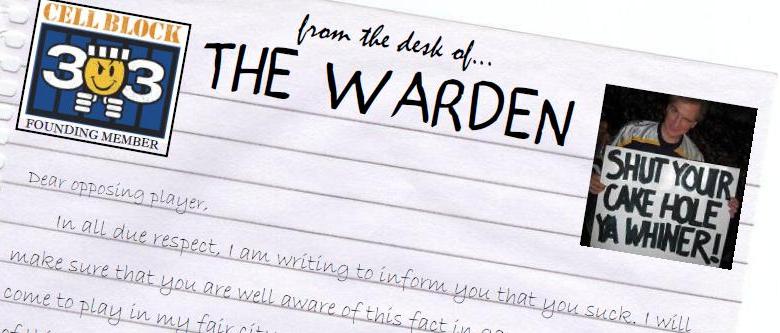 Since local ownership really took hold of the Predators three seasons ago, the attendance patterns have climbed steadily from 14,854 per game to the current robust 16,572 per game. Here are some stats to put it all in perspective:
01. With the Predators' sellout last Sunday vs. Calgary, they attained their sixth sellout in a row, only the second time they have done that in a regular season (in the first year from March 16 thru April 17, 1999).
02. If they sellout this Thursday night, Jan. 5th, when they take on the Dallas Stars, that will set a new record for consecutive sellouts in the regular season.  There is plenty of reasons to make this game attractive: The Preds are battling Dallas in the points standings of the Western Conference; the hated Mark Fistric, who concussed our Captain, Shea Weber, with a cheap elbow to the head 12 days ago, will be playing for Dallas; and it's College Night, meaning that all university students with an I.D. can get in the game at half price and receive big discounts on food and drinks.
03. With the last sellout vs. Calgary on Sunday, they now have 11 on the season, which sets a new record for the most through 20 home games. (breaking the old record from Season Two).
04. If they continue on the pace they are, they will eclipse their all-time average attendance record of 16,599 established in Season 2. They are currently averaging 16,572 after 20 games, and we know that attendance always gets even better after the holidays going down the second half stretch.
05. The Preds are currently filling Bridgestone Arena capacity at an average of 96.8%
06. The all-time record for Predators sellouts in a regular season is 20 in Season 2.  It looks like they have a good shot of reaching 22 or 23 this season. There is actually the potential to make it 25 which would be more than the previous 3 seasons combined.
07. The Predators have not had a crowd under 14,000 since Dec. 5th of '09 (two years ago).
08. 16 out of 20 games so far this season have been 16,000+
09. The Preds are currently ranked 20th in the NHL in attendance.  But if they were to sellout every single game, they could only go up one position to 19th (due to Bridgestone being relatively small capacity-wise by NHL standards).
10. Nashville is substantially ahead in avg. attendance over franchises in markets double, triple, and even five times as large like Colorado, Florida, Anaheim, New Jersey, Long Island, Dallas, and Phoenix.
Things are looking good from a fiscal perspective at 5th and Broadway!

—
SPECIAL NOTE: If you want discounted tickets, CLICK HERE!