Hellberg goes from back-up to Calder Cup Playoff starter…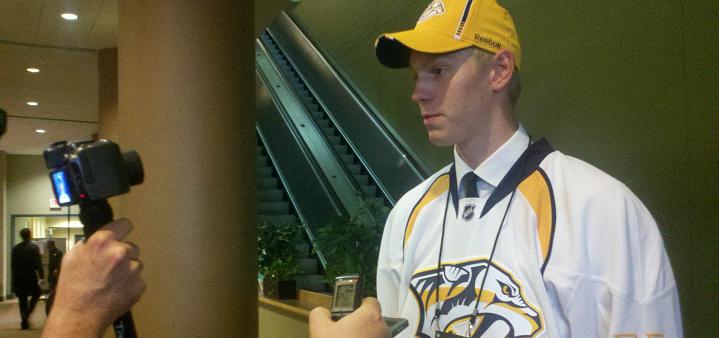 When he heard his name, he wasn't even paying attention.
"When I got drafted, I thought they would say my new team, Frölunda," Magnus Hellberg told us with a smile. "But they said my old one, Almtuna. So I didn't connect at the beginning. But then I was like 'Hey! That's me!'"
The general consensus in 2011 (and most years, really) was that the main need for the Nashville Predators was scoring. They needed talented forwards in the system so, in a few years, they can finally try to balance their tradition of stellar defense with a tradition of stellar scoring.
Furthermore, if you had to rank the areas of need for the Predators, goaltending would have came in near the bottom, if not the bottom. Starter Pekka Rinne, then 28, was coming off of a Vezina Trophy finalist year and had even finished fourth in the Hart Trophy voting for league MVP. Rookie back-up Anders Lindback, then 22, showed constant signs of a promising NHL career.
So when Assistant General Manager Paul Fenton took to the microphone at the team's table in the second round of the 2011 NHL Entry Draft, nobody expected him to say a goaltender's name, let alone Hellberg's. The two highest ranked goalies in the world, USA's John Gibson and Finland's Christopher Gibson, were still on the board. Matter of fact, every goalie was still on the board. But, as fate would have it, Hellberg's name was the first one called.
"If you take a look at it, he had a similar trait to all of the goaltenders that we've had starting with Pekka," Fenton said. "His size, his athleticism, just some raw materials there that we can mold. They're not always a finished product when they come here. They're going to take some time. It took Pekka a lot of time to become the goaltender that he is and we think that Magnus, in time, will become a starter in the National Hockey League."
Predators' goaltending coach Mitch Korn also admitted that size was a big factor.
"Being 6'6″ is kind of special," Korn told us back in October. "But you've still got to be skilled and stop the puck. It's not only about size. It's about skill number one — and that's the physical skill and mental skill of the goalie — and size number two."
Hellberg's first chance to play on a large stage was that fall for the Frolunda Indians of the Swedish Elite League. Unfortunately, Carolina Hurricanes' prospect Frederik Andersen played lights out, posting a ridiculous .941 save-percentage and a minuscule 1.67 goals-against average that season. Needless to say, Andersen's dominance rarely allowed Hellberg playing time.
"He had a great first year in Frolunda so I didn't play as many games," Hellberg told us on The 303:30. "With him not knowing what to do — since he would probably start at Frolunda the next season as well — I just came to the point where I thought 'I want to play in the NHL and the American Hockey League is the best way to go.' Once I made the decision, it felt awesome."
The Uppsala, Sweden, native signed an entry-level deal on June 18, 2012 that would bring his career over to North America for the first time. The smaller rink, the trapezoid and the north-south style of play were all things that he had to get used to if he wanted to realize his NHL dream.
"I wanted to go where I could develop my game the most," Hellberg said. "Nashville was clear that they saw a future in me. We had a great chat and their development plan for me was really good so, once I decided, I didn't regret anything."
February was his best month of the season and he was rewarded for it. Hellberg registered a 6-1-0 record with two shutouts, a 1.36  GAA and a .950 SV%, prompting the AHL to name him the CCM/AHL Goaltender of the Month. That consistency was a drastic change from October and November.
"At the start of the season, I struggled a little bit," Hellberg said. "It took longer to adjust than I thought it would. But once I got the hang of (the North American game), I felt more comfortable."
Indeed he did. He followed up his incredible February with a solid March and April, going 12-7-0 with a GAA below 1.90 to close out the regular season.
The man who started the year backing up fellow prospect Jeremy Smith brought his A-game when the Admirals needed him the most. Hellberg won his final four games of the year — posting shutouts in the final two — to propel his club into the Calder Cup Playoffs on the final day of the AHL season.
The Admirals are currently down 2-1 to the Texas Stars in their best-of-five Western Conference Quarterfinal series but Hellberg has continued his outstanding play. He had 41 saves in game one despite losing 3-2, he pitched yet another shutout in game two and then turned aside 29 of the 31 Texas shots in the game three loss on Wednesday.
If he can lead Milwaukee to a win on Friday and Saturday, Hellberg will have gone from AHL back-up to Calder Cup Playoff series-winning starter in just a matter of months.
Not bad for a guy who wasn't even paying attention.
—
PHOTO CREDIT: Jeremy K. Gover // section303.com