Hutton shines after being thrust into starting role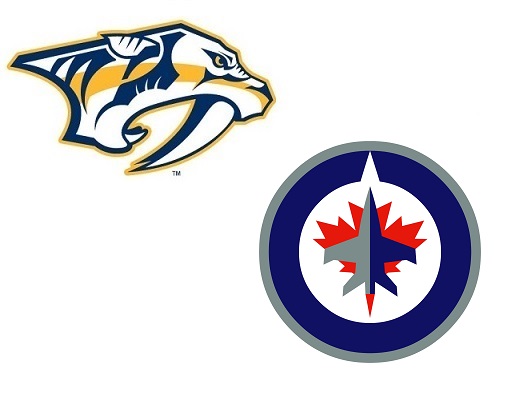 The Nashville Predators lost to the Minnesota Wild on Tuesday due, in part, to the fact they fired just 16 shots on goal. Tonight, it took 9:12 to get their first one but, thanks to Carter Hutton, the Preds remained in the game.
Starting goaltender Pekka Rinne was shelved for at least a month earlier in the day, giving Hutton his second start of the season (and third of his NHL career). He turned aside 34 Jets shots en route to his second career victory and vaulting the 6-4-1 Predators over the Wild in the Central Division and Western Conference standings.
Following a tremendous backcheck by Seth Jones late in the opening period, captain Shea Weber carried the other way, used Patric Hornqvist as a decoy and wristed it past Ondrej Pavelec to make it 1-0.
In the second stanza, Hutton went post-to-post on a wraparound attempt by Anthony Peluso. The Jets celebrated as if it it went in but the officials on the ice waved it off, thinking Hutton had gotten his paddle across to keep it out. Once video review took place, however, Peluso was given credit for his first career NHL goal.
The score would stay that way through the second intermission but, in the final frame, Hornqvist bagged his team-leading fourth goal of the season to make it 2-1, Nashville. Mike Fisher carried over the blueline and wristed a shot on goal. Pavelec turned it aside but, when Colin Wilson fanned on the rebound, Hornqvist was there to blast it home.
"It was a controlled breakout sort of setting," Head Coach Barry Trotz said. "We got Fisher out wide and he hammered it on net. We got two whacks at it and the second one went in the net and that's shooting to create. You get quick pucks on the net, you get good bounces and things go your way."
Winnipeg's Blake Wheeler tied things up late in regulation to send the game to overtime but, in the extra session, Craig Smith took advantage of a fortunate bounce in order to send the 16,075 fans inside Bridgestone Arena winners.
"He always shoots the puck pretty good, that's always been his strength," Trotz said about Smith. "But I think he's shooting with confidence more than anything. He's got a lot more poise in his game, He's not trying to force anything and he's just letting it happen. He's playing very instinctively and that's when he's at his best."
Nashville's new starting goalie has now turned aside 72 or the 75 Winnipeg shots he's seen this year. He also played 50 minutes of the season opener in St. Louis and made 21 saves on that night as well. Not bad for a guy who had only played one NHL game before signing with the Preds on July 5 of this past summer.
Speaking of the Blues, Hutton will try to keep the magic going on Saturday night. It's Hockey Fights Cancer night and the jerseys the Predators will wear during warm-ups will be available via silent auction through the second intermission. Come out, support a great cause and take in all the action.
Puck drops at 7:00pm Central and is a radio-only game.
THE THREE STARS OF THE GAME:
1. Craig Smith (NSH)
2. Carter Hutton (NSH)
3. Blake Wheeler (WPG)