JP Dumont bought out by the Nashville Predators…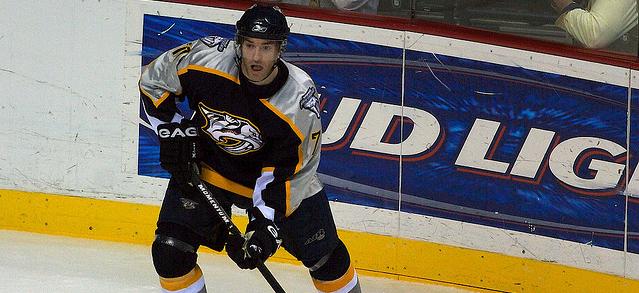 Just three days after it was announced that Steve Sullivan would not be returning, the Nashville Predators said "au revoir" to another veteran. General Manager David Poile told the press today that they had bought out the contract of JP Dumont.
Dumont, 33, signed a four-year, $16 million deal back in 2008. Along with Sullivan, Jason Arnott, Martin Erat and David Legwand, it made him one of the highest paid Preds at $4 million a year. And Dumont played like it, leading his team in scoring in 2007-08 and 2008-09.
Then this happened.
While carrying the puck into the Dallas zone in just the second period of 2009's opening night, Stephane Robidas blasted him with a big hit along the boards. Dumont laid motionless for several minutes. Even though he would return to the ice 12 days later, his career would never be the same. Since that hit, he has tallied just 63 points in 144 games. By contrast, he had 65 points in 2008-09 alone.
But maybe a change of scenery will help motivate him. And, thanks to today's buyout, he'll get a chance to prove that's the case. One thing is for certain, though. Everyone wishes him the absolute best. There was never a more selfless player on, and off, the ice than JP Dumont.
So just like Sullivan on Monday, it's a sad yet necessary move.
—
PHOTO CREDIT: Jameson Roper // special to section303.com (used with permission)