LIVE FROM LAS VEGAS: Pekka Rinne sits down with 303…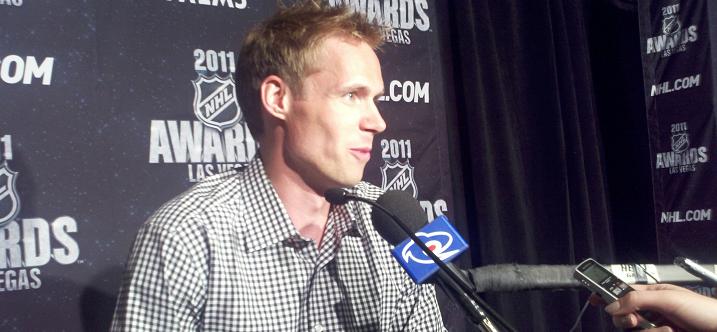 During the Media Availability portion of the 2011 NHL Awards in Las Vegas on Tuesday, Nashville Predators goaltender Pekka Rinne spoke to section303.com about what it means to be nominated for the Vezina Trophy among the likes of Tim Thomas and Roberto Luongo, his journey from the AHL four years ago to now at the NHL Awards and what, if anything, Shea Weber's teammates do to persuade him to stay in Music City.
Ladies and gentlemen, the world class goaltender — and human being — Pekka Rinne….
section303: Four years ago, you're in Milwaukee and struggling to get a shot in a Nashville sweater. But now here you are and you just might take the stage as the Vezina Trophy winner. Talk a little bit about that journey.
Pekka Rinne: It's hard to realize. Even a couple season back, I was just trying to make the team, you know, I wasn't dreaming about winning the Vezina Trophy or anything like that. It's just when you work hard, and play on a good team, and you have good coaches, and you get a little bit of luck good things can happen. I'm a good example (of that). I've been working hard and, like I said, got a little bit of luck and good coaches and good teammates. That's my theory. But it's obviously been a difficult journey and I've enjoyed every single minute of it.
303: When you were left off of Team Finland's 2010 Olympic roster… did that motivate you?
PR: I'm sure, at the time, I was a little bit disappointed. I didn't want to admit that but obviously you try to play hard and you want to represent your country in the Olympics, no question. But looking back that gave me a little bit of time to regroup and I signed my deal during that break and after that everything just clicked. I don't know if it was that or if it was the deal or maybe just the extra break or rest but it seemed to work. But, right now, it's easy to say it was a little bit (disappointing).
303: I know you kind of stay out of it because you have to but is there any kind of nudging that goes on in private when it comes to a teammates contract? In this instance, of course, Shea Weber's? You know, maybe a little "Hey man, stay here with us" kind of thing?
PR: *laughs* During the off-season we don't talk much but when we do, obviously, you talk about everyday life. Obviously that's a big topic right now, Shea's deal. I really can't say anything. To be honest, it's the business side of this business and I don't really know anything about that. But I truly believe and hope that he's going to sign in Nashville.
303: You're nominated for the Vezina Trophy with Tim Thomas and Roberto Luongo. At events like this, do you like to pick those guys' brains or do you guys not talk shop?
PR: Yeah, I think this is all fun. I don't think there's too much competition at this event. Obviously, when you go on the ice it's a different story but, yeah, right here it's a different story. I haven't really talked too much with either one but to congratulate them on a great season
303: Finally Pekka, who would you happier to see win? Yourself…….. or Shea Weber?
PR: *laughs* Obviously for my boy Shea. I think he deserves that. Well, you can say that about (Nicklas) Lidstrom and (Zdeno) Chara too. It's three amazing d-men and hopefully he brings it home.
303: Thanks so much.
PR: Thank you.
—
PHOTO CREDIT: Jeremy K. Gover // section303.com