Mark Van Guilder recalls his NHL debut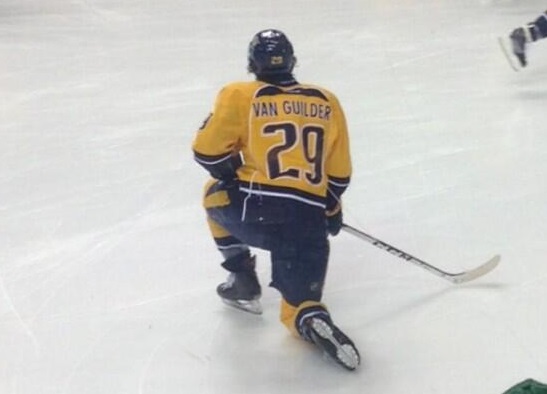 When Mark Van Guilder took the ice for the first time last night, he became the seventh Nashville Predators player to make his NHL debut this season.
The former Notre Dame Fighting Irish captain was recalled on an emergency basis due to an injury to Nick Spaling.
Through his 66 games with the Milwaukee Admirals this year, the 30-year old center has amassed 28 points. His 14 goals at the AHL level ties a career high but he wasn't recalled in order to impact the scoresheet.
"It's a great story," Predators head coach Barry Trotz told Jim Diamond of The Rinkside Report. "One of the things I think that we try to do right here in Nashville is send the right message and he's a guy that has worked his way up through the Coast League and he's been a great leader down in Milwaukee for our young guys."
That's right, the Coast League. Also known as the ECHL. Van Guilder spent a considerable amount of time with the Preds "AA-affiliate" the Cincinnati Cyclones from 2008-2010. He was a point-per-game player for them during that time (91 points in 90 games) and even helped the Cyclones win a Kelly Cup Championship in 2010.
Since 2010-11, however, he's been a permanent member of the Admirals, collecting 111 points in 306 games at the AHL level.
In his six seasons as a pro, he's worn every jersey in the Nashville organization except the Nashville jersey itself. Until Sunday night, that is. His first shift came with just a couple minutes gone in the contest. He would later admit that it was all a blur.
"I don't remember it at all," Van Guilder said. "I had no idea what was going on. I was just trying not to fall down."
He may not remember but, on his first shift, he collected a loose puck in the neutral zone and advanced it in an effort to get a rush started.
"That first touch is always nice to get out of the way and the first shift is always nice to get out of the way," he said. "And it's nice that they both came in the first 10 seconds that I was on the ice. I just calmed down a little bit after that and tried to have some fun out there."
All in all, the Roseville, Minnesota native logged 8:27 of ice time and even saw some abbreviated work on the penalty kill. Through most of the game he was flanked by Viktor Stalberg and Colin Wilson.
"It was fun," he said. "My linemates made it easy on me. I tried to keep it simple and tried to contribute any way that I could."
His linemates weren't the only ones who made him feel at ease. There were some friendly faces in the crowd too.
"It means a lot to me that my girlfriend was able to make it, my mom, my brother and his family," Van Guilder said. "It calmed me down a little bit throughout the day. It was good to have them here. And my dad and sister were watching at home too."
Of course, being the seventh player to make his NHL debut wearing gold this season means there were plenty of old friends in the locker room as well.
"Oh, it was huge," Van Guilder said of seeing old teammates the second he walked though NHL doors. "I talked to most of the guys that are here, that I had played with, before I even showed up. It was very relaxing. It made me feel really welcome. It was great to see [Gabriel] Bourque, [Victor] Bartley and [Colton] Sissons (who I'd played with all year) so it was awesome seeing those guys again."
Speaking of teammates, the pivot recalled what it was like when the Admirals room got the news on Saturday.
"I was fine until all of them started giving me hugs and then I was a little bit emotional," he said. "It was pretty special. It's a close group there so it meant a lot."
At 30 years old and a former product of the ECHL, the cards were stacked against him. Rarely does a player with those kinds of credentials get a chance with a big club.
"I get extra pleasure out of seeing guys get that opportunity because they've earned [it]," Trotz said. "They haven't been entitled. They haven't been a high draft choice or anything. They've just worked at their game to get better and been pros no matter what the circumstance."
When asked whether or not he scooped up a game puck or any other souvenir from his big day, Van Guilder realized that he had dropped the ball.
"Oh, I don't know," he said before starting to look around his stall. "I'll take whatever they can give me. Doesn't matter to me. I'll take a sock, whatever."
---
PHOTO CREDIT: Robby Stanley // Smashville247.net