Mike Fisher: a section303.com exit interview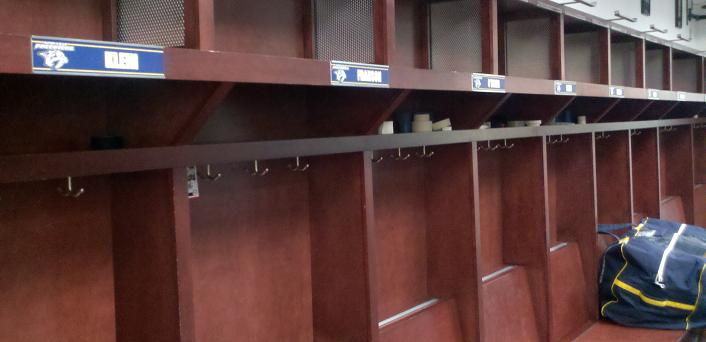 This is the fourth of a multi-part series of exclusive interviews conducted by section303.com during the final media availability session for the 2010-11 Nashville Predators.
—
In this installment, we spoke with Predators center Mike Fisher. The former Ottawa Senator came over in a trade on February 10 and promptly gave Nashville an adequate replacement for injured free agent signee Matthew Lombardi. Lombardi was supposed to be the team's number one center but suffered a concussion after playing just four periods of hockey. Fisher stepped right in and, come April, became Nashville's leading point producer in the first round of the playoffs. Fisher spoke to us about what it will be like to go through an entire season with the same group of guys, the .
—
section303.com: You spent the last part of the season with these guys. What's it going to be like to start the year with them and then what are some of the things you'll get out of a full training camp with the same team?
Mike Fisher: Well, I'm looking forward to it, for sure. You know, being part of the whole group. When you come in late, you try to fit in as much as you can but all the guys here were great and the organization really made me feel at home so it didn't take really that long to feel really part of the group and want to win. I think it's just going to add to that, having a full season starting in camp and really having that goal and focus all year of winning a Cup with the group we have here. You know, that's a fun goal and something to look forward to.
303: Now that you've spent the last part of the season here and the first part of the year in Ottawa, can you kind of contrast the two experiences?
MF:Well it was a breath of fresh air coming here, for sure. It was definitely a tough season up until when I came here. It makes you appreciate winning and being a part of a successful group. That being said, it's still disappointing that we're here and not still playing because you're one goal is to win a Cup and that's what we ultimately want to do.
303: You always hear that, in order to be a champion, you have to learn how to win first. Do you feel like this group of guys did that this year?
MF:Yeah absolutely. We definitely made steps. We didn't reach our goal and that's disappointing but it takes time. We've got a young group here with a lot of guys who are still not in the prime of their careers. They're going to get better and better with experience. I've been through lots of disappointments but that kind of feeds the hunger of wanting to win and getting a taste of winning in the playoffs and how to win and to be part of a good group like this it definitely is going to help us going forward.
303: Finally, now that the series is over maybe you can talk about this… what did you think of the GreenMen and their cut out of Carrie in the Canucks sweater?
MF: Oh I was okay with it. I just had a little bit of a chuckle. They do their thing and entertain some people and annoy other people but it was okay.
303: Awesome. Thanks.
MF: No problem.
—
HEADLINE PHOTO CREDIT: Jeremy K. Gover // section303.com
INSET PHOTO CREDIT: Jas Faulkner // The Hockey Writers