Moving on: saying goodbye to 303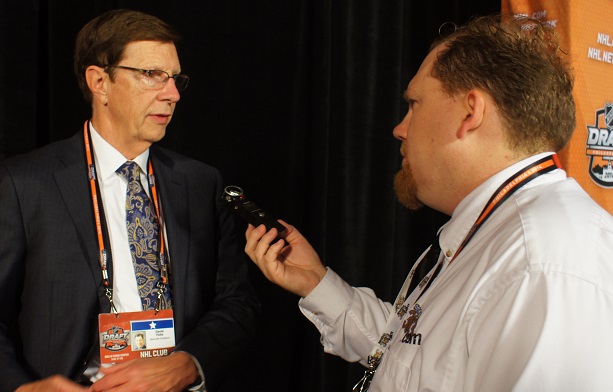 Last April, I knew my days of covering the Nashville Predators as a credentialed member of the media were coming to a close. I had made the decision that, after four years, I just couldn't give the responsibility of covering the team the time and energy it deserved. Trust me, I wanted to. But, being a new dad with a new job, I just couldn't sacrifice any more of my and my family's time and money any longer. I was so sure that it was my last hurrah that, on April 12, the rest of the bloggers and I took a group picture afterward to commemorate my final game.
I'm thrilled (and sad) to announce that April 12 was not my final game.
I have decided to move on from section303.com and become a reporter for the Nashville Predators flagship station 102.5 The Game. I will be pinch hitting for Darren McFarland as the pre- and post-game host when he's out of town this season, conducting player interviews that you'll be able to hear on every home post-game show as well as write for the station's website.
In short, I will cover the team at every home game — just as I have for the past four years – but now I'll be getting paid to do it.
Needless to say this is a huge opportunity for me and it's a dream come true. I was able to serve as in-game studio host six times last year and I could have died a happy man having been a part of just those six. Former NHLers Dan Keczmer, Jay More, Brent Peterson and Stu Grimson were all by my side in some capacity during those six games and their encouragement was critical to my confidence.
I would like to thank several people for the opportunity in front of me. Nashville Predators Director of Broadcasting Bob Kohl, Executive Vice President and Chief Marketing Officer Chris Parker, Senior Vice President of Communications Gerry Helper, Communications Manager Kevin Wilson and 102.5 The Game Program Director Jeremy Bennefield. Without any one of them, I would not have been considered for the position, let alone actually gotten the job.
To my Preds blogging brethren – both past and present. Brandon Felder, Buddy Oakes, Amanda O'Brien, Ryan Porth, Robby Stanley, Patten Fuqua, Kris Martel, Justin Bradford, Andrew Hirsch and Thomas Willis. You guys are my second family. Not just because we share a passion for the sport but because we always had each other's backs. The friendships that developed out of "the row" are special and will be lifelong.
To my wife, Lynn, and my son, Mogilny. You have sacrificed a lot for me to live my dream of covering an NHL team. I won't even waste your time trying to find the words to thank you because words will never relay the level of gratitude I have for you.
To Sarah Fuqua whose amazing photographs gave all of my stories a more professional look just by being on the page. I was blessed to benefit from your beautiful eye and I can't wait to see what the future holds for you.
To Mark Hollingsworth, a/k/a "The Warden." You started this thing called Cell Block 303 back in 1998 and you passed the online baton to Codey and I 10 years later. Not only did I have the opportunity to grow and develop as a writer because of you but you gave me an audience. I am forever grateful.
To Codey Holland who, back in 2008, rescued the website domain from purgatory and then said "Okay, Gover… go write." You are one of my best friends and I can't thank you enough for all that you've done for me these past six years. Your support (both personally and technologically) has meant the world to me and I wouldn't be anything without you.
Finally, to you, the reader. Yes, I would write even if nobody read a single word but your support was beyond my wildest dreams. It encouraged me to work harder, be better, operate faster and write stronger. 303 took home two Toast of Music City Awards, a Best of Nashville Award and even a broadasting A.I.R. Award, all thanks to you. There were plenty of other sites to choose from (Smashville 24/7, PuckScene, Predlines, The Predatorial, Inside Smashville, The Tennessean, The Examiner, The City Paper, etc.) but you chose to support us. Thank you.
Believe me when I tell you that the best section303.com has yet to come. You'll see why in a matter of days.
As for me, my first story will be up on TheGameNashville.com when they launch their new site shortly. If you're on Twitter and care about what I have to say regarding the Predators and hockey in general, you can follow me at @goverjkg.
---
PHOTO CREDIT: Sarah Fuqua (used with permission)