Nashville may have been on his "short list" but Shane Doan chooses to stay in Arizona…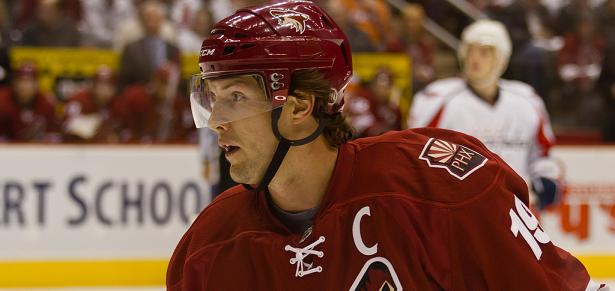 On August 24, Greg Wyshynski of Yahoo! Sports' Puck Daddy wrote the following:
"We still think the Vancouver Canucks, Detroit Red Wings and one of the California teams (the San Jose Sharks?) will be the likely destination for Doan."
Then, earlier today, 620 KTAR sports talk show host John Gambadoro tweeted:
It is down two – Phoenix and Vancouver. Coyotes Captain Shane Doan will sign a contract deciding where he will play by 5 pm NY time Friday

— John Gambadoro (@Gambo620) September 14, 2012
Highly sought after free agent forward Shane Doan has decided to stay with the only team he's ever known: the Phoenix Coyotes.
The 16-year vet wanted to finish out his career in Phoenix but didn't want to commit unless the ownership situation was settled. Despite some recent wrinkles by the Glendale City Council, it appears Doan feels like there's enough promise there and re-signed.
Nashville Predators General Manager David Poile confirmed a few weeks ago that the two sides had had discussions.
"Shane has told us that Nashville is a team that would be on his short list," Poile said. "We all want to see Shane sign with the Coyotes but if that doesn't work out, we are definitely interested — and in — if he is available."
The Predators may have been on his short list but, in the end, home is where the heart is.
And who can blame him, really? Doan, 35, has been with the Coyotes organization since they were the first installment of the Winnipeg Jets. His agent, Terry Bross, came out in late August and said, while that's his client's preference, Doan would sign with someone before the current CBA expired on September 15.
"(Ownership has to) be done before the 15th, otherwise we're signing somewhere because we don't know what the new CBA is going to look like," Bross told the Arizona Republic on August 24. "I don't know if it's going to limit any scope of a contract, so we want to make sure we sign before then. I guess, from that respect, time is ticking."
The Halkirk, Alberta native is a consistent producer, having posted at least 50 points in 11 of the past 12 seasons. Regardless of his contributions on the score sheet, Doan is more known as a leader, an all-around player and a guy who can play all 180 feet of a hockey rink. All traits that the Predators love.
Nashville center Mike Fisher knows Doan personally and told Smashville 24/7 that he'd welcome his friend.
"In a perfect world, having him here would be unbelievable for us up front," Fisher said with a smile. "I think he would prefer to stay in Phoenix but I'm trying to persuade him a little bit."
Maybe it wouldn't have mattered but it sounds like someone needs to work on their persuasion tactics.
Fisher and the Predators won't need to wait long in order to see Doan in his familiar threads. Nashville has an early season trip to the desert on October 25, just the eighth game of the year.
If there's a full season, of course.
—
PHOTO CREDIT: Bridget Samuels // Flickr (used with permission)