Nashville Poutine, S'mores Waffle, other delicious treats debut tonight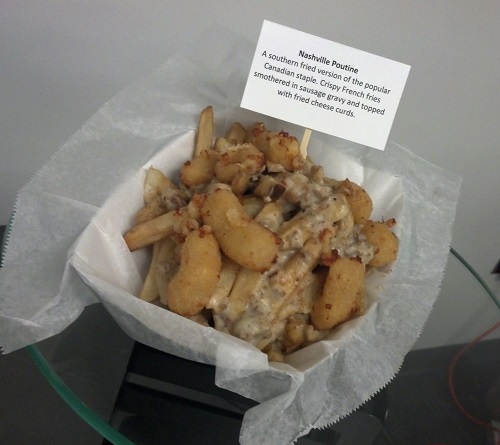 Last year's unexpected off-the-ice hit at Bridgestone Arena was Bacon on a Stick. Starting tonight, you can expect more off-the-ice hits.
Wade Gnann, Executive Chef of Delaware North Companies Sportservice, walked us through some of the new menu items so you can start planning your trip to the Nashville Predators' home opener ahead of time. After all, most fans make it an all-night outing when they go see a game.
"A lot of people, especially during the week, have a small window of opportunity to go home, change, get something to eat and then get into the building," Gnann said. "What we want to do is be able to provide enough variety and enough options — and options that are more filling — so people feel comfortable enough coming here, getting a wholesome meal and still not miss any of the action."
Below are pictures and descriptions of three of the five new items, one re-worked favorite and loads of flavor and taste that will be waiting for you the next time you head to Bridgestone.
NASHVILLE POUTINE
The first new menu item this year is actually a Canadian staple.
"Poutine is a classic Canadian comfort food," Gnann explained. "Traditionally, it's french fries, brown gravy and fresh cheese curds. But what we've done here in Nashville is make it our own. We're using sausage gravy because that's what we like. And, in the south, we love fried food so we've breaded and fried the cheese curds."
WHERE TO FIND IT: sections 317, 310, 104 and the Food Court
CHICKEN FRIED STEAK ON A STICK
A new menu item that is sure to be the go-to snack of my father-in-law, the Chicken Fried Steak on a Stick is exactly what it sounds like. A generous portion of chicken fried steak but cooked in a way so it's easy to eat at a game.
"We want to make it portable for the guest so they don't have to figure out where they're going to eat it," Gnann said about the infusion of on-the-stick foods.
WHERE TO FIND IT: section 310 and the Food Court
CHICKEN AND WAFFLE SANDWICH
It may sound weird but Chicken & Waffles were really popular last year.
"A surprise to many but not really to me, the Chicken & Waffle took off," Gnaan said. "It was a new item but sold in the hundreds every day."
Due to the popularity, Gnaan and his team went back to the waffle well, coming up with the Chicken and Waffle Sandwich. It's an improvement over the earlier incarnation because it's more portable and easier to eat.
WHERE TO FIND IT: section 109
S'MORES WAFFLE
Speaking of waffles, I bring you the holy grail of the new menu items: the S'mores Waffle.
All too often, you find yourself sitting there in the second intermission wanting a dessert. Ice cream and cookies are great but, be honest, you can have those at home. Well, now you have a fancy alternative!
It's a waffle folded over with chocolate sauce and marshmallow melted inside. And yes, it's as good as it sounds.
WHERE TO FIND IT: section 109
Not pictured are two new hot dogs, both available at the Food Network stand by the South Doors. The Pimento Cheese Dog is a jumbo all beef hot dog topped with house-made pimento cheese and butter pickle relish while the Nashville Dog is topped with pulled pork, Smokey Mountain BBQ Sauce and slaw.
So where do all of these menu items comes from?
"We take the feedback from guests, from employees and the ideas off the top of our heads," Gnann said. "We have to figure out logistically if the item can go into a stand, if things are going to fit, if we have the equipment to pull it off and if we have the training involved. And then, of course, we have to make a couple samples and taste it."
Like San Francisco Giants baseball games and garlic fries, the Predators are attempting to produce unique concession items that will eventually become synonymous with going to a Nashville Predators game.
"I think one of the things that separates us from a lot of other places is that we're doing a lot of scratch cooking," Gnann said. "One of the models we're trying to do is push that scratch cooking and that homemade feel up into the concession stands. I think it adds value, the flavor is certainly better and it's pretty much about elevating the guest experience."
That elevation of the guest experience starts tonight when you can finally get your hands on the items listed above.
—
PHOTO CREDIT (or, should we say, hunger credit?): Jeremy K. Gover // section303.com