Nashville's goaltending situation just got interesting: is Hellberg North America bound?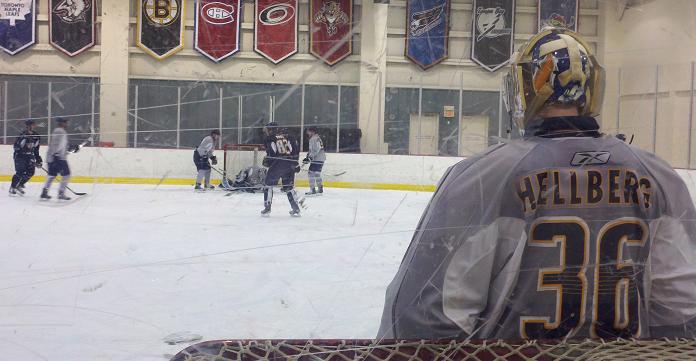 Is 2011 second round pick Magnus Hellberg headed to North America next season?
If so, things just got real interesting.
Milwaukee Admirals play-by-play man Aaron Sims caught onto a Swedish article that backs up what Nashville Predators General Manager David Poile told us a couple weeks ago.
"We've talked but I don't know if that's going to happen or not," Poile told us on May 10.
Hellberg said the same in the article, saying (translated) "Nashville wants me to come over and play in the AHL but we'll see."
This morning, Stefan Nilsson of expressen.se echoed that sentiment in his blog, stating that Hellberg could play on this side of the Atlantic in 2012-13. He went onto say that Hellberg doesn't know, when he comes to Nashville's Development Camp in late June, whether he'll be playing in Sweden or the United States afterward.
According to Nilsson, Hellberg is waiting for Carolina Hurricanes prospect Frederik Andersen to make a decision. Both men are goaltenders for Frölunda with Andersen posting world class numbers last year. In 39 games as the starter, Andersen registered seven shutouts, a .941 save percentage and a ridiculous 1.67 goals against average. If Andersen heads west, the starting gig is Hellberg's to take. If he doesn't, it sounds like Hellberg will be the back-up once again and that's when the smaller rinks of North America start to look pretty good.
"I have no problems playing in the AHL," Hellberg told Nilsson. "You have to start somewhere. Almost no one goes to the NHL right away."
Ah, but would he?
If we look at goaltending in the Nashville system, you'll notice something interesting. Back-to-back Vezina Trophy nominee and NHL 13 cover finalist Pekka Rinne is the starter, no question. After that, the waters get murky, however.
Yes, Anders Lindback is the back-up now but will he be when October comes around? He's a restricted free agent come July 1 and he can't possibly be happy playing second fiddle for the next seven years of Rinne's contract.
"That's a situation that's probably going to come to a point at some time where we're going to have to do something," Poile said. "Certainly he's got an excellent chance to be a number one goaltender in the National Hockey League. We've got to see how happy we can make him as a number two. We'll probably have to address that in the off-season."
The fact that he's an RFA, the fact that he's under-utilized as a back-up and the fact that there are several teams who could use a young starting netminder suggest that the Predators could very well trade him this summer. Besides, Nashville doesn't have a single first or second round pick in June's Entry Draft and you know that doesn't sit will with Poile.
"I will do everything I can to try and fill in one of those holes," Poile said.
If Lindback were to be traded, that would leave the Preds with Admirals starter Jeremy Smith and Cincinnati Cyclones (ECHL) dual-starter Chet Pickard. 2007 seventh round pick Atte Engren struggled with Milwaukee last year and has returned to his native Finland, giving Pickard the back-up slot in Milwaukee.
Smith has played well, posting the second most wins in the AHL last year, but are the Predators really comfortable with him as the back-up to Rinne? We asked this question to Poile straight up and his answer was very telling.
"If Lindback is here, we're good. If Lindback is not here, I would think we'd be probably looking for another NHL goalie."
One goalie in particular stands out among the free agent pack: former Predators starter Tomas Vokoun. The Karlovy Vary, Czech Republic native will be 36 by the time the 2012-13 campaign starts and is looking to win a Stanley Cup before his career comes to an end. Not only is he a familiar face and a fan favorite but, over the past six years, he's posted the second best save percentage of any NHL goalie. In short, he could give starter-caliber performances to the Predators while giving Rinne a night off here and there.
But let's cross that bridge when we come to it.
If Hellberg comes over from Sweden, the Predators have options. Sure, he may not begin his North American career as Rinne's back-up like his predecessor did back in 2010-11 but he could be making nightly visits on the FS-Tennessee broadcast before you know it. At 6'5″, 190 lbs. Hellberg is similar in build and style to both Rinne and Lindback. And under goaltending coach Mitch Korn's tutelage, anything is possible.
—
RELATED READING:
—
PHOTO CREDIT: Jeremy K. Gover // section303.com
SPECIAL THANKS to Seth Lake for the Atte Engren tip.