Nashville's training camp roster goes from 61 to 42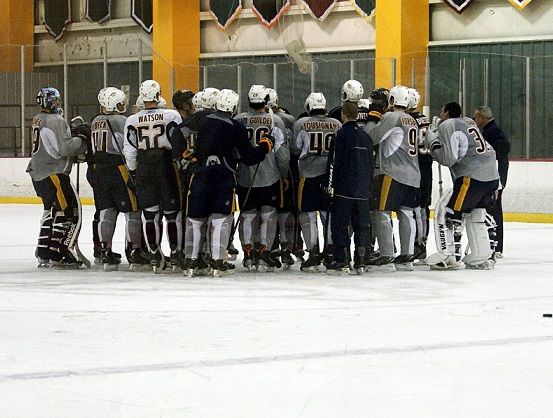 The Nashville Predators made their first round of cuts this afternoon, trimming their roster from 61 to 42.
The Milwaukee Admirals receive 2010 draft picks Taylor Aronson and Anthony Bitetto, 2009 choices Charles-Olivier Roussel and Zach Budish as well as 2011 fourth rounder Josh Shalla. Of the five, only Budish (who turned pro after the University of Minnesota was ousted from the NCAA tournament in April) didn't split time between the Ads and the Cincinnati Cyclones last year.
Baie-Comeau Drakkar gets their captain back as 2013 fourth round pick Félix Girard has been returned and big Finnish defenseman Mikko Vainonen will get a second season of North American hockey under his belt at the junior level as he's been reassigned to the Kingston Frontenacs. Tommy Veilleux, who suffered an injury in the rookie games down in Florida, was sent home on September 11 but was officially returned to Victoriaville of the QMJHL today.
In addition to the reassignments, the Predators have released 11 from their tryout agreements.
The only player left in camp on a tryout agreement is undrafted Swiss winger Simon Moser. The Bern, Switzerland, native has played in two of Nashville's three pre-season games and has registered just one shot but has logged over 30:00 of ice time.
The official press release is below.
***
Nashville, Tenn. (September 20, 2013) – Nashville Predators President of Hockey Operations/General Manager David Poile announced today that the club has reduced its training camp roster by 19 players by making the following transactions:
Reassigned Felix Girard (Baie-Comeau, QMJHL), Mikko Vainonen (Kingston, OHL) and Tommy Veilleux (Victoriaville, QMJHL) to their junior teams.
Assigned Taylor Aronson, Anthony Bitetto, Zach Budish, Charles-Olivier Roussel and Josh Shalla to Milwaukee (AHL).
Released Barry Almeida, Paul Crowder, Kayle Doetzel, Sebastian Geoffrion, Eric Levine, Michael Moffat, Cody Reichard, Teddy Ruth, Vinny Saponari, Mathieu Tousignant and Allen York from tryout agreements.
Nashville's training camp roster now sits at 42 – 25 forwards, 12 defensemen and five goaltenders. An updated roster is attached.
Join the Nashville Predators this Sunday, Sept. 22 for their preseason home opener against the New York Islanders with a special 5 p.m. CT start time. A plaza party will begin at 3 p.m. CT with games, music and more!
Season Tickets for the 2013-14 Nashville Predators season in Smashville are on sale now and start at just $20 per game. Full Season Ticket Holders will receive a savings of 50 percent off of the single game ticket price for selected games during the 13-14 season. Twice Daily 15 Game Plan Holders will receive a savings of 40 percent off of the single game ticket price for selected games during the 2013-14 season. Great interest-free payment plans are currently available for all Nashville Predators season ticket packages. To order Season Tickets, visit nashvillepredators.com/seasonticket or contact a ticket representative at 615-770-7800.
—
PHOTO CREDIT: Sarah Fuqua (used with permission)