REACTION: Niclas Bergfors clears waivers, sent to Admirals…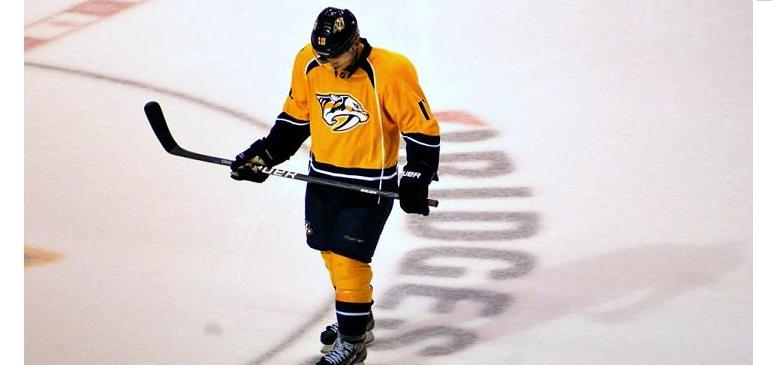 Well, the Niclas Bergfors experiment is over in Music City.
The Södertälje, Sweden native had tremendous offensive upside but it was unclear whether he would fit into the Nashville Predators' play-all-200-feet-of-ice system. And while he did improve as the season went along, he didn't do enough to earn a full time roster spot and was exposed to waivers once the team was fully healthy.
He managed only a goal and an assist in a Preds jersey but, let's face it, he didn't exactly get every opportunity to succeed. On most — if not all — nights he was skating on the fourth line. Hoping an offensive player can give you offense while skating on a line with Jerred Smithson and Blake Geoffrion is flat out asking too much.
That being said, a player has to earn his opportunities. Especially in Nashville. Bergfors didn't do that, plain and simple. For every flash of talent he exhibited, he also had a bad turnover in his own end. Matter of fact, he failed to clear the puck at key times in at least three different games that come to mind. If you're going to lace up the skates for Head Coach Barry Trotz, you better take care of your own end, and "Bergy" didn't do that.
This was, quite frankly, looked at as a make-or-break year for Bergfors. After making the 2009-10 NHL All-Rookie Team with the New Jersey Devils, his reputation took a hit. With a good year in Nashville, it was thought, he could realize his full potential and deal himself back into the league's good graces. With a poor campaign, however, he might very well find himself playing hockey in Europe for the rest of his professional career.
His clearing waivers and being assigned to the Milwaukee Admirals seem to be the final steps toward the latter.
The good news for Bergfors (if there is any) is that there's still plenty of games left to make an impression. If the 24-year old can make waves at the AHL level, he may be able to get his confidence back and earn himself a recall. Unfortunately he could just as easily throw in the towel, go through the motions and play out the remainder of his contract.
His true character will be tested while wearing an AHL sweater, that much is certain.
For more on the move, CLICK HERE. Our good friends over at Admirals Roundtable weighed in from their perspective.
For now, however, the Predators' official press release is below.
—
Nashville, Tenn. (November 23, 2011) – Nashville Predators President of Hockey Operations/General Manager David Poile announced today that forward Niclas Bergfors has cleared waivers and been assigned to Milwaukee (AHL).
Bergfors, 24 (3/7/87), has two points (1g-1a) in 11 games with the Predators this season.
The Predators kick off a five-game road trip tonight against the Minnesota Wild (7 p.m., 102.5 The Game, FOX Sports Tennessee), then head to Detroit and Western Canada. The Preds won't return to Smashville until the calendar flips to December, when, after a decade and a half of events, Nashville's own Bridgestone Arena celebrates its 15th anniversary.
This Friday and Saturday, the Nashville Predators and Bridgestone Arena are jumping in on Black Friday madness, offering massive discounts of up to 50 percent to the general public for 2011-12 Nashville Predators home games, Pro Shop items and Bridgestone Arena events. This two-day, limited inventory, Black Friday super sale kicks off at 8 a.m. on Friday, Nov. 25 and runs through 9 p.m. on Saturday, Nov. 26. To take advantage of this opportunity, call 615-770-7800, go online to nashvillepredators.com/blackfriday or visit the Bridgestone Arena Box Office. Parking on Friday and Saturday is free from 8 a.m.-5 p.m. for all fans in the Bridgestone Arena Sixth Avenue garage (at the corner of Sixth Ave. and Demonbreun St.).
—
PHOTO CREDIT: Sarah Fuqua // special to section303.com