Officials undo Rinne's 44 save effort; Preds lose Game 3…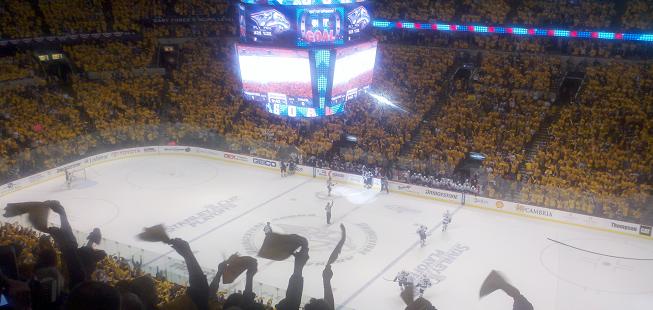 There's an unwritten rule in hockey. Unless it's murder, you're not supposed to call a penalty in overtime.
Apparently the officials that were working the game tonight didn't get that memo because a marginal call on Shea Weber cost the Predators a game in the series.
The Nashville Predators dropped Game 3 of their best-of-seven series to the Vancouver Canucks, 3-2 in overtime in front of 17,113 screams fans at Bridgestone Arena. Nashville got an early goal from David Legwand and a late goal by Joel Ward before finally falling to Vancouver.
For the third straight game Pekka Rinne was outstanding. He turned aside 44 Canucks shots in over 70 minutes of action and single-handedly kept his team in the game when they were down 2-1 throughout the second half of regulation.
"He played great and kept us in it," Mike Fisher said. "Just a tough one there at the end. It went off someone and it wasn't his fault."
Instead of Rinne's performance, however, everyone will be talking about the penalty called on Weber in the overtime session.
Weber and Kesler engaged in a good ol' hockey battle along the boards. Kesler was holding Weber's stick in while the Sicamus, British Columbia native worked him over. The  next thing you know, the whistle blew.
Even in regulation it would've been a tick-tack call. But in overtime?
"The stuff they were letting go before that… I really don't know anyone saw out there. But what do you do?" Fisher said.
"We didn't play our best game but I thought we fought back hard," Weber said. "But, when it ends on a call like that, it's real disappointing."
But the Predators original draft pick, the guys who's been here the longest, said it best (even though he'll probably get fined for it).
"I don't know if (referee) Timmy Peel had a date or something, but he wanted outta here pretty quick," Legwand said.
The sad thing is things looked promising early on. The hometeam got the crowd into it early as Legwand tallied shorthanded. After Jerred Smithson took a minor penalty for roughing, the Canucks turned the puck over and Nick Spaling fed the puck to Legwand who put it past Roberto Luongo for the 1-0 lead.
After Jerred Smithson took a bad high-sticking penalty at the tail end of the opening period, Vancouver started off the second with the man advantage. And they promptly tied the game. Rinne came out to challenge Daniel Sedin and, when last year's Hart Trophy winner went wide, Rinne exposed the entire crease. Sedin found Kesler camped out in front to tie the game.
The Canucks would make it 2-1 early in the third period when Chris Higgins scored his third of the playoffs and second of the series on a shot from the blueline that found it's way past a sprawling Rinne.
Joel Ward, who had had a somewhat of a miserable game until this point, tied the game for Nashville late in regulation. He tried a wraparound move but, instead of getting the shot clean on goal, he centered the puck and it carommed off of a skate in front and then over the goal line for the tying goal.
The Predators will now try and re-group for Thursday's Game 4. With a win, they'll, re-tie the series before heading back to British Columbia.
Puck drops at 7:30pm Central.
LEFTOVER THOUGHTS:
* Gretchen Wilson performed on the band stage during the first intermission.
* Big & Rich performed during the second intermission.
* Oh yeah, and Alice Cooper was in the crowd. And no, he did not perform during the third intermission.
* It took Vancouver 16 shots to solve Rinne.
* The Predators took just a single shot on goal in the first 19:00 of the second period. They would finish with four after a last-minute flurry in front of Luongo.
* Steve Sullivan left the game late in the third period after a knee-on-knee colision in the attacking zone. The Preds have him listed as a lower body injury.
* With Sullivan's injury, look for JP Dumont to see some action on Thursday.
* The Gold Out was a success. It came across amazing in person and on TV. Don't worry if you missed tonight's game as the Preds are doing it again on Thursday.
* The Preds are now 0-for-12 on the power play in this series. 2010 vs. Chicago, anyone?
* Each time a team scores a shorthanded goal in this series, they lose in overtime. (Alexandre Burrows in Game 2 and Legwand tonight)
* Five Cell Blockers recorded a "question for EJ" for NHL Live. Tune into NHL Network tomorrow afternoon to see which questions EJ Hradek fields.
MY THREE STARS (as voted on with 7:05 remaining in regulation):
1) Pekka Rinne (NSH)
2) Ryan Kesler (VAN)
3) Chris Higgins (VAN)
THREE STARS OF THE GAME:
1) Ryan Kesler (VAN)
2) Pekka Rinne (NSH)
3) Chris Higgins (VAN)
—
PHOTO CREDIT: Jeremy K. Gover // section303.com