Pekka Rinne finishes third in Vezina Trophy voting…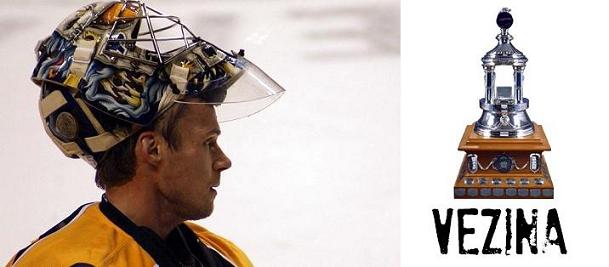 Inside The Wynn Hotel & Casino in Las Vegas, Nevada on Wednesday night, the National Hockey League handed out it's 2012 awards and the Nashville Predators were well represented.
Team captain Shea Weber narrowly missed out on the Norris Trophy earlier in the night and David Poile lost out on the GM of the Year. The lone bright spot for the Preds came from forward Mike Fisher who won the NHL Foundation Player Award.
And then there was the man between the pipes.
Pekka Rinne led the league in wins (43), shots against (2,153) and saves (1,987), tied for the league lead in games played (73) and ranked second in minutes played (4,169) and games started (72). He even led his hockey club to their seventh playoff berth in eight years.
Actor Ray Liotta presented Henrik Lundqvist of the New York Rangers with the Vezina Trophy for the league's best goaltender and it's been announced that the Kempele, Finland native finished third in the voting. He finished second for the award last year.
It was hard to argue with Lundqvist winning the award. He seemed to be the front runner all season long, finishing third in wins (39), third in save percentage (.930) and tied for third in shutouts (8). Combine those numbers with the fact that he plays in the largest media market in North America and the fact that he backstopped his team to an Eastern Conference title, it's easy to see how he won the award.
Rinne will have his name etched on the Vezina eventually. He'll just have to wait at least one more season.
—
2011-2012 Vezina Trophy Voting Pts. (1st-2nd-3rd)
1. Henrik Lundqvist, NYR 120 (17-11-2)
2. Jonathan Quick, L.A. 63 (6-9-6)
3. Pekka Rinne, NSH 42 (4-4-10)
4. Mike Smith, PHX 35 (2-5-10)
5. Brian Elliott, STL 5 (1-0-0)
6. Jaroslav Halak, STL 3 (0-1-0)
t-7. Marc-Andre Fleury, PIT 1 (0-0-1)
t-7. Miikka Kiprusoff, CGY 1 (0-0-1)
—
PHOTO CREDIT: Sarah Fuqua // Flickr (used with permission)