Bye bye Tootoo…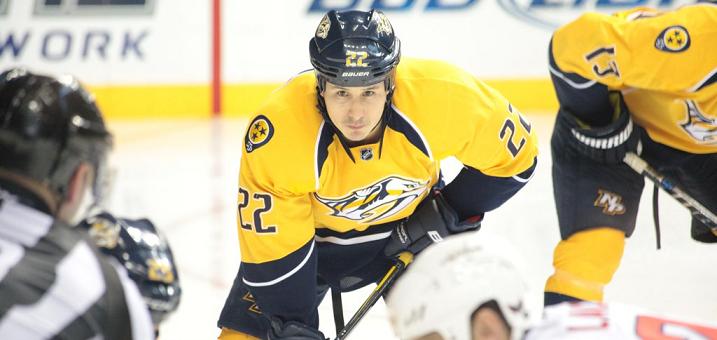 It's been real. It's been nice. But it hasn't been real nice.
Jordin Tootoo has spent his entire NHL career with the Nashville Predators but, on July 1, that will change. According to News 1130 out of Vancouver, Tootoo's agent confirmed he will not sign a contract extension in Music City and will head to free agency when the calendar turns over.
Tootoo, the first person of Inuit descent to make it to the National Hockey League, had a career year in 2011-12, posting 30 points. His 24 assists were double his previous career high in that category. Apparently his camp believes one good statistical season — and his occasional reckless, bowling ball reputation — is enough to get him a lucrative contract from another club.
The 29-year old winger made giant strides after returning to the league in February of 2011. Two months prior, he had entered the Substance Abuse and Behavioral Health Program of the NHLPA and the NHL. Since February 19, 2011 (his first game back), Tootoo has collected 38 points in 99 games and appeared to play with more controlled aggression. Not bad for a fourth line winger who can occasionally step up and skate on the third line. He was even the Nashville media's nominee for the 2012 Masterton Trophy, given annually to the player who "best exemplifies the qualities of perseverance, sportsmanship and dedication to hockey."
Tootoo's problem lies in his on-the-edge playing style and reputation for diving, however. When he plays with discipline, Tootoo can certainly be an asset. He's the kind of spark plug you need in the lineup on most nights but, when he can't keep his cool, all hell breaks loose and he's a detriment to his team. For this reason, he was scratched for all but three playoff games this past April and May.
And then there's the diving.
He's known to embellish a tad (see: example 1, example 2, example 3 and example 4). This often results in a penalty for unsportsmanlike conduct and all too often he put the Preds down a man instead of putting them up by one. And, with that reputation comes the risk of having referees ring you up for two minutes when you didn't embellish. You can't fault a guy for trying to help his hockey team but, when it happens frequently, enough is enough.
Dirk Hoag over at On the Forecheck was the first to be tipped off that the two may be parting ways. On Saturday, sports fans got to take part in a panel discussion with the voice of the Nashville Predators Pete Weber and Hockey Operations Advisor Brent Peterson at 104.5 The Zone's annual SportsFest . The former associate coach told the crowd that Tootoo had turned down "a sizable three year contract" offer and would test free agency. Today, that was confirmed by Tootoo's agent on News 1130.
Sunday, July 1 will mark a new dawn for the 2001 fourth round pick. For the first time in his career, he will not be a member of the Nashville Predators organization. Preds fans have to hope that his new team will be in the Eastern Conference so he can't target former teammates six times a year.
—
RELATED READING:
—
PHOTO CREDIT: Leanne Charles // Flickr (used with permission)