Pekka Rinne returns to game action in lopsided Ads win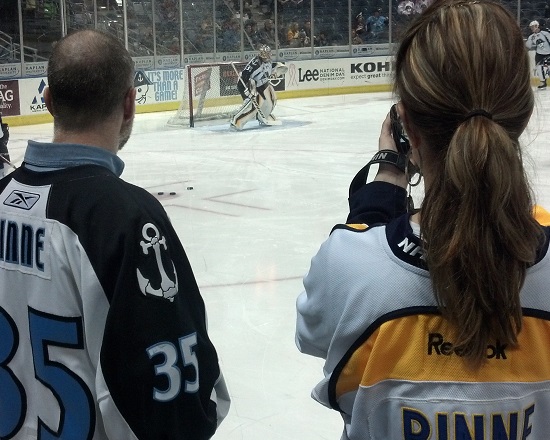 Despite being in a different jersey, Pekka Rinne felt at home in his old stomping grounds.
With a bunch of "Rinne 35" jerseys in the crowd, the Nashville Predators goalie took the ice as a Milwaukee Admiral on Friday night for the first time since 2008. He made 16 saves in the 9-1 victory over the Iowa Wild.
"I'm happy I got to make a few good stops," he said afterward. "To play the full 60 minutes, I think that was the main goal. To get that game conditioning in even though it was quite an easy game for myself."
While the win and near shutout are great, it's hard to tell if the Kempele, Finland native was sharp after his four month hiatus. It took over three minutes for him to see his first shot and he only saw 10 pucks total in the first two frames.
"After the first period, I was still tired even though I only faced five shots," Rinne said. "I think it's just all that adrenaline of being out there but, after that, I kind of settled down and I was able to enjoy the game."
Predators goaltending coach Mitch Korn flew in this afternoon so he could monitor Rinne's performance. He wasn't thrilled with the lack of work Iowa brought to his goalie.
"It's not what I wanted to see," Korn said. "But it's better than being on the other end."
The Wild finally solved Rinne with their 14th shot on goal. Defenseman Zack Miskovic tallied his first marker of the season by firing an innocent shot at the net through traffic with just over five minutes remaining.
"It was my fault on that," Head Coach Dean Evason said. "After we scored, we tried to stop the play before they dropped the play but it was too late. It's 100 percent my mistake."
Rookie Colton Sissons bagged his 20th of the year, stay-at-home defenseman Joonas Jarvinen scored twice and Miikka Salomaki finished with three points, a plus-4 rating and a couple thunderous hits. But, at the end of the night, the story was Rinne's return.
"My body's feeling good so that's a really good sign," he said. "I'm excited to play against Rochester on Sunday. I don't want to jinx anything but I hope to get a few more shots."
In a weird way, we're sure Korn and the Preds do too.
—
PHOTO CREDIT: Jeremy K. Gover // section303.com