Predators win 6th in a row, put Stars on outside looking in…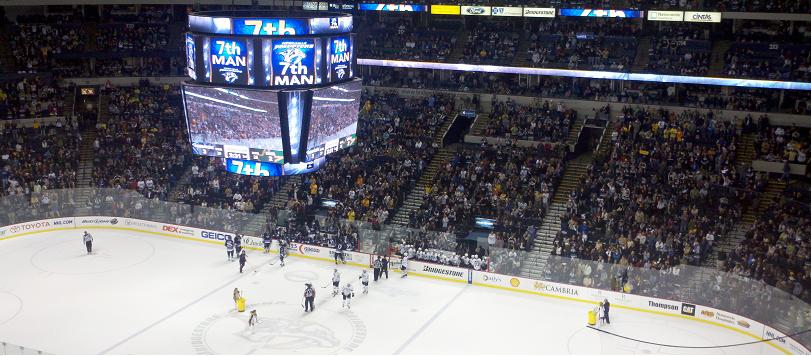 Preds fans everywhere have been looking forward to this past Thursday's game against the Anaheim Ducks and tonight's tilt against the Dallas Stars. Many were saying, if they managed to win both games in regulation, the Nashville Predators would be going to the post season.
To that, we're happy to tell you, the Preds won both.
In front of 16,892 at Bridgestone Arena, the Preds used two Mike Fisher goals and two David Legwand goals (yes, one of them was on an empty net) and 28 saves from Pekka Rinne in the emmensly important 4-2 victory.
The win helps Nashville keep pace with the 5th place Los Angeles Kings (who also won tonight) and it puts Dallas on the outside looking in thanks to the Anaheim Ducks beating the Chicago Blackhawks, 2-1.
Also, the San Jose Sharks disposed of the 4th place Phoenix Coyotes by the score of 4-1 tonight. Phoenix is just one point ahead of Nashville in the Western Conference standings.
After Stars defenseman Alex Goligoski used the power play to put his team up 1-0 early, Martin Erat drove strong to the crease from behind the Dallas net and Legwand banged home the rebound to tie the game, 1-1.
Early in the second period, we had our first Mike Fisher sighting since February 17. Patric Hornqvist, from behind the net, dished it out to a waiting Fisher who then one-timed it past Stars goaltender Kari Lehtonen for his first goal in 37 days.
Just moments later, Shea Weber was trying to get back on defense but eas clearly tripped up at the Dallas blueline. No penalty was called and the Stars went down and scored.
Fisher would get his second goal of the game (and his second of the period) with just over 9:00 left in the middle frame when he backhanded a Ryan Suter rebound into what was basically an empty net to give Nashville the 3-2 lead.
Nashville will now focus on the eventual-President Trophy winning Vancouver Canucks. Because he was injured the last time the Canucks came to town, this will be Dan Hamhuis' first game in Nashville not as a member of the Predators organization. In two games against Nashville (obviously both played in British Columbia), Hamhuis has one assist and one glorious turnover that turned into a Patric Hornqvist goal.
The Canucks have only lost 17 games in regulation this season, two of those to the Preds. Nashville hopes to makes it three come Tuesday night.
Puck drops at 7:05pm.
LEFTOVER THOUGHTS:
* Shea Weber is a plus-23 player since December 4. For contrast, he was a minus-10 on the season until that point.
* Dallas now has eight games remaining in their 2010-11 season and are two points out of the top eight. Six of their final eight are on the road.
* Erat has 40 points since December 1 (44 games). He had just six in his previous 16.
* The much-maligned Legwand has 15 points in his last 12 games.
* Joel Ward, who had just eight points in his first 35 games this season, has eight points in his last 10.
* Sergei Kostitsyn had only one point from February 24 to March 15. He now has eight in his last six.
* Since November 6, Pekka Rinne has allowed four goals or more in a game five times. In the games immediately following, he has yet to allow more than two goals.
* Saturday night's two goal effort was Fisher's fourth multi-goal game of the season. His previous three came as a member of the Ottawa Senators.
* Ward has now lost his helmet during play in two consecutive games.
MY THREE STARS (as voted on with 5:12 remaining in regulation):
1) Mike Fisher (NSH)
2) Patric Hornqvist (NSH)
3) Mike Ribeiro (DAL)
THE THREE STARS OF THE GAME:
1) Mike Fisher (NSH)
2) Patric Hornqvist (NSH)
3) Ryan Suter (NSH)
—
PHOTO CREDIT: Jeremy K. Gover // section303.com