Preds battle back, thrash the Jets on home ice…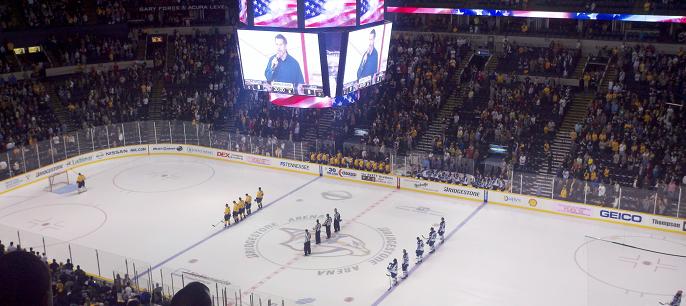 In front of 14,701 at Bridgestone Arena, the Nashville Predators downed the Winnipeg Jets in pre-season action, 4-3.
Chet Pickard began and ended the contest for the Preds but didn't play the whole game. Pekka Rinne was supposed to finish out the final 40 minutes of action but left the ice after making seven saves on eight Winnipeg shots. In what looked like a harmless play, Rinne waved down the referee who then blew the whistle. Rinne skated to the bench with his mask up, dripping blood from his forehead.
Rinne would return to the bench, but not the game, in the third period.
After Spencer Machacek and Paul Postma gave the Jets a 2-0 lead in the first period, Jordin Tootoo scored the first Predators goal.
Derek Meech gave Winnipeg their two goal lead back when he got a deflected shot past Rinne less than two minutes after Tootoo's tally.
Sergei Kostitsyn, Martin Erat and Patric Hornqvist each found the scoresheet in at the end of the middle frame as Nashville scored three unanswered goals to take the lead.
The Predators are now 4-1-0 in the pre-season and will take on the Washington Capitals on Wednesday night right back here at Bridgestone Arena.
Puck drops at 7:00pm Central.
LEFTOVER THOUGHTS:
* Tootoo got lots of penalty kill time tonight and fared quite well.
* Cal O'Reilly, who is trying to come back from breaking his fibula last season, was dropped to the ice after feeding Weber a pass. O'Reilly spent the next five seconds trying to get out of the way, thinking Shea was about to wind up and let one go.
* Pickard stopped 20 of 22 shots but looked shaky most of the night. He lacked confidence and routinely gave up huge rebounds, even on simple saves.
* The last three Nashville goals were scored on the power play.
* Zack Stortini, who's fighting for a roster spot with the big club, dropped the gloves with Chris Thorburn in the first period. He then dished out a couple more big hits later on and even drew a double-minor penalty in which his team scored twice on.
* After two goals were scored in the opening stanza, and five in the second period, there were no goals in the final period.
* On top of his two assist night, Ryan Suter picked up four penalty minutes.
* Both teams won 25 face-offs tonight. And lost 25.
* The Predators have announced that there will NOT be practice at Centennial SportsPlex tomorrow.
MY THREE STARS (as voted on with 3:58 left in the third period):
1. Shea Weber (NSH)
2. Patric Hornqvist (NSH)
3. Jordin Tootoo (NSH)
THE THREE STARS OF THE GAME:
1. Shea Weber (NSH)
2. Ryan Suter (NSH)
3. Patric Hornqvist (NSH)
—
PHOTO CREDIT: Jeremy K. Gover // section303.com