Preds can't overcome two early turnovers, lose to Wild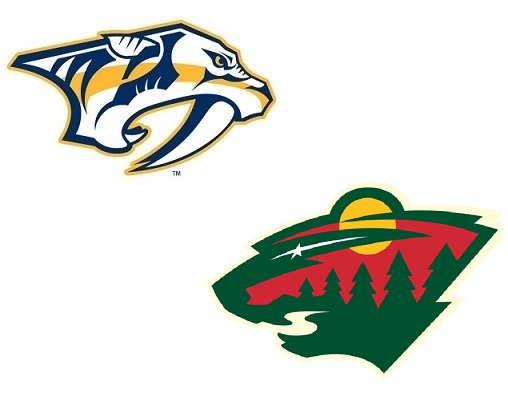 They say turnovers will kill you and that's exactly what killed the Nashville Predators on Sunday night.
In front of 16,221 at Bridgestone Arena, the Preds dropped a 4-0 decision to the Minnesota Wild in a game that wasn't even that close.
"They came out with a lot of juice and got us on our heels early," Head Coach Barry Trotz said. "They capitalized on a couple of turnovers. We tried to stick handle and tried to make plays through people and sometimes you just can't."
Marek Mazanec got the start for the second time in as many nights and played well enough to keep his team in it but, in the end, got zero offensive support. The rookie netminder turned aside 19 Minnesota shots and fell to 8-10-4 on the year.
Wild goalie Darcy Kuemper, a fellow rookie, registered his first career NHL shutout.
A Viktor Stalberg turnover in the first got things started for Minnesota. An odd man rush the other way developed and Charlie Coyle fed the puck over to Dany Heatley and the former Atlanta Thrasher redirected it by Mazanec to put the Wild up 1-0.
Moments later, Ryan Ellis fumbled the puck outside his own blueline and Minnesota pounced again. This time Jason Zucker slipped a shot under Mazanec's right pad to make it 2-0, visitors.
The second period proved scoreless so, in the third, the Wild added to the damage. A mad flurry in front of the Nashville crease resulted in a few solid saves by Mazanec but an eventual goal by Matt Cooke to make it 3-0, Minnesota.
Marco Scandella rounded out the scoring with his third of the year thanks to a shot from the point that got through traffic in front and floated over Mazanec's glove hand before he could see it.
With the loss, instead of Nashville pulling within six points of the 8th place Wild, they fall 10 points back. Getting points in this one was a can't-miss opportunity that missed.
"Obviously, it's disappointing from our stand point," Trotz said. "We had one game in-hand and you think, if we get this one, we get Calgary [next]. We had an opportunity to do it ourselves but now we have to hope that they fall off the rails a little bit and that we can string a couple victories together here."
"Yes, that's tough loss," forward Eric Nystrom said. "That was a huge game. They played a really strong road game and their goalie played well. They're really stingy about letting you get to the net front and they collapse well and block shots. We just couldn't solve the riddle."
The Predators have struggled lately but they've been in every game since December 27. That was the last time they either didn't come out on the winning side or lost by more than a goal. They'll try to get back to that trend when the lowly Calgary Flames come to town on Tuesday night. The Flames have the worst offense in the West and are nine points below Nashville in the standings.
Puck drops at 7:00pm Central.
***
MY THREE STARS (as voted on with 5:50 remaining in regulation):
1.  Dany Heatley (MIN)
2. Charlie Coyle (MIN)
3. Darcy Kuemper (MIN)
THE THREE STARS OF THE GAME:
1. Darcy Kuemper (MIN)
2. Dany Heatley (MIN)
3. Charlie Coyle (MIN)