Preds comeback bid falls short despite Hornqvist extending streak…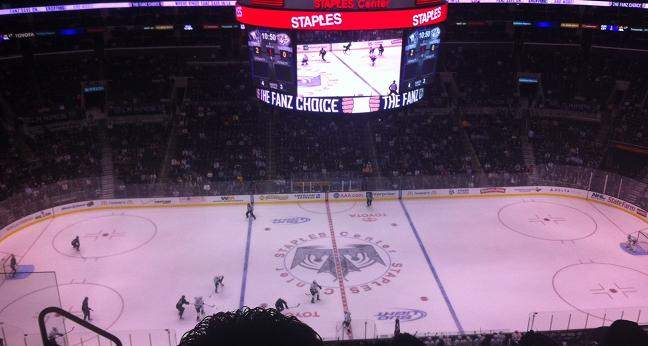 The Nashville Predators overcame a two goal Kings lead in the first period but fell just short of doing it again in the third period.
On Tuesday night, in front of 17,963 at Staples Center in Los Angeles, California, the Preds dropped a 4-3 decision to the host team. Nashville got 26 saves from Anders Lindback and goals from Matt Halischuk, Craig Smith and Patric Hornqvist in the loss.
Hornqvist would score with just 1:21 left on the clock to extend his goal scoring streak. The Sollentuna, Sweden native has now tallied in six consecutive games and is on the cusp of setting a team record.
The guy fans affectionately call "Horn Dog" has been an interesting case this season. Coming into the year, his last goal was on April 20, in last year's first round playoff series against the Anaheim Ducks. After a 15 game goal-less drought, Nashville's 2009-10 leading goal scorer finally found the back of the net in the 5-3 win over the Tampa Bay Lightning on October 27. Since then, he's scored seven goals in six straight games. With a goal in his next game, the former seventh round pick can erase JP Dumont and Alexander Radulov's names from the Nashville record books as he will set a new franchise record.
It didn't look like Hornqvist would get his chance, however.
In the first period, the Kings used the right point of their attacking zone to jump out to a quick lead. Just seconds after their 5-on-3 man advantage became a 5-on-4, Alec Martinez made it 1-0 for the home team. Then, just over 2:00 later, fellow Los Angeles defenseman Drew Doughty made it 2-0 with a slap shot from the same area.
Nashville would answer, however. Shea Weber tried to one-hand the puck toward the net but the puck got kicked out into the high slot. Halischuk found the puck there and wristed it past LA goalie Jonathan Bernier to cut the Kings lead in half.
Just moments later, Smith took a wrist shot that would make Alexander Ovechkin proud. He picked off a clearing attempt and fired a laser past Bernier to tie the game at two.
Midway through the middle frame, LA captain Dustin Brown skated into Nashville territory on an odd man rush. His cross-ice pass set Mike Richards up for the score, giving the Kings a 3-2 lead. Moments later, Dustin Penner put a shot toward Lindback that was deflected by Simon Gagne on it's way in, giving Los Angeles the two-goal lead once again.
The Preds would make things interesting with 14 shots in the final frame and, late in regulation, Hornqvist's seventh of the season but it wasn't meant to be on this night. Colin Wilson was even standing in front of the net when the last second ticked off the clock. The puck squirted to him and, while he may have been able to backhand it into an empty net for the tying goal, it hand-cuffed him and he was unable to get a shot away. There was no guarantee it would have crossed the goal line by the time the final horn sounded anyway.
Nashville will have no time to sit and stew about the disappointing loss as they have to turn around and play their old "friends" the Ducks on Wednesday night.
Puck drops at 9:00pm Central.
LEFTOVER THOUGHTS:
* This was Head Coach Barry Trotz's 998th NHL game.
* This was Los Angeles Kings Head Coach Terry Murray's 999th NHL game.
* David Legwand left the game early in the contest with an upper-body injury. He did not return.
* With Legwand's absence, Niclas Bergfors got quite a bit of power play time in this one. 3:20 to be exact.
* This was Lindback's first start — and only his second game action — of the season.
* Two weeks ago today, Hornqvist had zero goals. Now, he leads the team in goals with seven.
* Speaking of Hornqvist, he would finish with one goal, seven shots, a plus-1 rating and six penalty minutes.
* There were 14 minor penalties in this contest, each team taking seven.
* Weber and Ryan Suter were a team-high plus-2 while Jon Blum was a team-low minus-3.
THE THREE STARS OF THE GAME:
1) Jarret Stoll (LA)
2) Drew Doughty (LA)
3) Ryan Suter (NSH)
—
PHOTO CREDIT:  Ilissa Gold // special to section303.com