Preds finish out home pre-season schedule with win over Atlanta…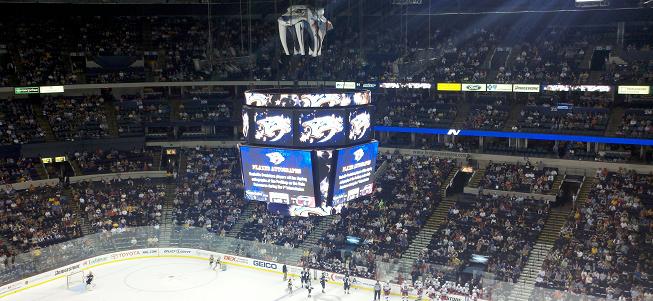 In the final home game of the pre-season for the Nashville Predators, they dressed as close to a regular season lineup as you're going to get this early in the dress rehearsal.
And it showed.
The Preds knocked off the visiting Atlanta Thrashers by the score of 2-1 in front of 10,411 at Bridgestone Arena. Pre-season games, more than wins and losses, are supposed to create a real-life test for players on the bubble. Tonight was no exception.
The line of Patric Hornqvist, Cal O'Reilly and Steve Sullivan didn't put any points on the board but they were easily the best line tonight. The threesome was flying around out there and generating scoring chance after scoring chance. This was a good sign for O'Reilly who is still trying to prove that he's worth keeping around.
"They were pretty good," Head Coach Barry Trotz said. "Sullivan was skating better. Hornqvist had lots of chances but hasn't found the back of the net. But, he goes to the hard areas and, if he keeps doing that, he'll get rewarded. (They) were a good line for us."
Newcomer Sergei Kostitsyn, who's also fighting for a roster spot, played well also. He scored the first goal of the game on a beautiful deflection off of a Shea Weber shot from the point and finished with plus-1. Even off the score sheet he was solid, being aggressive on the forecheck and showing off his exceptional puck control.
"He's starting to buy into our system and buy into what we do," Trotz told hockeybuzz.com's Brandon Felder. "Every game he's playing, he's playing a little bit better and has a better understanding. I think he's a real intelligent player and he's got some gifts. We just want to use his intelligence and his gifts."
As far as Atlanta goes, they got their lone goal from Stanley Cup Champion-turned-Atlanta Thrasher Ben Eager.
The final two pre-season games of the year for the Predators are Wednesday night in Atlanta and then Saturday afternoon in Washington.
Players still in camp that raise some eyebrows are 2009 first round pick Ryan Ellis, injured defenseman Roman Josi, injured forward Linus Klasen and tonight's back-up goaltender, 2008 first round pick Chet Pickard. Josi, Klasen and Pickard are believed to be starting their professional seasons in Milwaukee while Ellis will probably be returned to his junior club, the Windsor Spitfires however all four are still on the roster. It'll be interesting to see who gets to see some action in Wednesday's game.
GAME NOTES:
* Pickard was the back-up to Rinne tonight but, unlike most pre-season games, the back-up never saw game action. Trotz explained to the media that the plan was to split the goalies, per usual, but when Rinne only had 16 saves after two periods, he decided to go with Rinne the entire way.
* Former Pred Rich Peverley was back in town. He finished the game with four shots on goal and a minus-1 rating.
* The best Atlanta player on the ice tonight was right winger Chris Thorburn. He tallied one assist, posted a plus-1 rating, had two penalty minutes and two hits. All in only 13:59 of ice time.
* Preds center Jamie Lundmark re-aggravated a groin issue in the second period and, therefore, didn't step on the ice in the third. He finished the contest with one shot on goal and a minus-1 rating.
* Weber was my vote for #1 Star of the Game. "Beast" had a goal and an assist for two points, had three shots, four hits, stuck up for a teammate after a cheap shot in the neutral zone and led his team in ice time with 24:24.
* Mad props to good friend of the site @squirrelgrl for killing the national anthem tonight! Well done Mrs. Cartwright!