Preds get first home win since ousting Ducks in playoffs…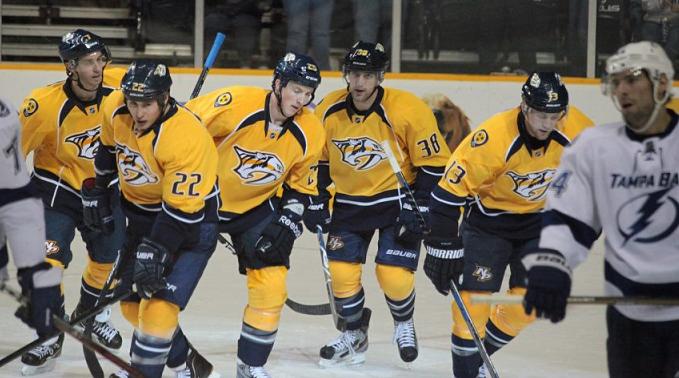 They found some offense and, wouldn't you know it, they put a "W" in the win column.
The Nashville Predators haven't won a single game inside Bridgestone Arena since last year's playoffs. Finally, in front of 16,619 in Music City, the Preds collected two points on home ice. Behind goals from four different players, they dropped the Tampa Bay Lightning 5-3.
Lost in the scoring was the outstanding play of Predators goaltender Pekka Rinne. In the first period, he made an incredible glove save on Vincent Lecavalier and a diving stick save a period later. He finished with 29 saves in a Vezina-like performance.
In the opening period, Craig Smith and Sergei Kostitysn hooked up on what was nearly a carbon-copy of their goal on Tuesday. The University of Wisconsin alum blazed down the right wing and snapped a pass on the tape of Kostitsyn's stick. The Novopolotsk, Belarus native made no mistake and one-timed it for the score.
Late in the frame, that line clicked again. The Preds survived an extended onslaught in their own end and then used a line change to break Kostitsyn up the wing while Mike Fisher planted himself back door on goaltender Mathieu Garon. After a tape-to-tape pass, Fisher slammed it home for his first goal of the season and his third point in two games.
"It was a great shot," Nick Spaling said of his teammate. "Obviously, that's tough to save for anybody. It was a pretty hard shot off the post and in."
The Lightning would answer, however. After the TV timeout that followed Nashville's second goal, Steven Stamkos found the back of the net to cut the home team's lead in half. Then, in the final minute of the period, Teddy Purcell used a Tampa power play to tie the game.
A familiar face finally got off his own personal schnide midway through the second stanza. Patric Hornqvist collected a loose puck in the goal mouth and scored his first goal since April 20.
"We needed some production from Patric," said Head Coach Barry Trotz. "He got his goal right in front, just going to the net hard. We got that because of good fortune."
The goal not only got "Horn Dog" back to his scoring ways but it also proved that the Predators were, in fact, able to rebound after a momentum shift. Something they haven't been able to do in this young season with any consistency.
"It was huge," Fisher said. "Those are the momentum swings that we need. I thought every line stepped up and played well when we needed to."
Minutes later former Kitchener Ranger Spaling bagged his first of the season. Less than a minute after his goal, Spaling would go on to assist Fisher's second of the game, giving Nashville a 5-2 lead headed into the locker room.
The Lightning tallied a late goal but it proved to be meaningless as the Predators closed out their first home win since April 24.
"It felt good to finally get a win, especially at home," Spaling said. "It's always frustrating to lose one or two in a row, so that was a big win."
Nashville will try to keep the momentum going — or, at the very least, the offense — when they close out their three-game home stand against the same Anaheim Ducks who they knocked out of the playoffs last season.
The puck drops at 7:00pm and don't forget to dress up. The Predators are encouraging fans to get decked out in costumes as this is the closest home date to Halloween.
LEFTOVER THOUGHTS:
* This was NHL referee, and Franklin, Tennessee resident, Mike Hasenfratz's first contest in Nashville after being out of the game for two years.
* Kostitsyn left the game with a leg injury and did not return. Trotz said he expects Kostitsyn to miss tomorrow's practice but play on Saturday.
* Hornqvist's goal was his first in a Preds win since April 8.
* Niclas Bergfors played just his fourth game of the year tonight, finishing with two shots on goal in 8:00 of ice time. He also got some power play time late in the game.
* Jack Hillen, without question, played his best game since joining the Predators. And that includes the pre-season when he looked in complete control. That's a great sign going forward.
* Shea Weber and Ryan Suter, both pointless, each finished with a plus-3 rating.
* The Preds won the face-off battle, 36-26.
* In one of the wildest games you'll ever see, the Winnipeg Jets took a 5-1 lead on the Philadelphia Flyers tonight… in the first period. The Flyers battled all the way back to take a 7-6 lead before finally losing to the Jets — get this — 9-8. Don't miss the highlights on NHL On the Fly tonight.
MY THREE STARS (as voted on with 6:20 left in regulation):
1) Mike Fisher (NSH)
2) Pekka Rinne (NSH)
3) Sergei Kostitsyn (NSH)
THE THREE STARS OF THE GAME:
1) Mike Fisher (NSH)
2) Pekka Rinne (NSH)
3) Nick Spaling (NSH)
—
PHOTO CREDIT: LeAnn Charles // special to section303.com