Preds lose second in a row, possibly key cog on defense too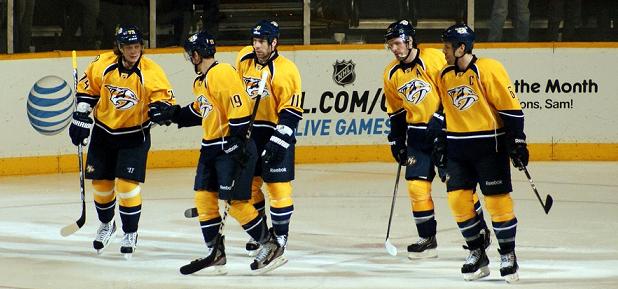 The Nashville Predators dropped a 3-1 decision to the Colorado Avalanche on Friday night but, despite the loss, there were positives. Rookie defenseman Seth Jones looked completely comfortable in just his second NHL game, the power play showed flashes of what it can do and goaltender Pekka Rinne rebounded from a poor performance last night with a 33-save outing and second star of the game honors.
With those positives, however, there were the obvious negatives. And the negatives started late in the first period.
The Avs opened the scoring after a miscue by the Preds. In the Colorado zone, Matt Hendricks tried to follow the puck around the boards but lost an edge, taking Paul Gaustad's feet out from under him. With both Predators forwards down on the ice, the Avalanche rushed the other way. After solid defensive plays by both Mattias Ekholm and Seth Jones, Jamie McGinn threw the puck toward the Predators net. Ekholm failed to tie up P.A. Parenteau on the post and he slammed home the rebound to make it 1-0, Colorado.
Midway through the second, Colorado extended their lead when Patrick Bordeleau got a tip in front, putting the puck up and over Rinne. An innocent shot from the point hit a bunch of traffic in front and the Preds goaltender had no chance.
Gaustad got the Predators on the board and cut the Avs lead in half by roofing a shot over Semyon Varlamov. Mike Fisher carried into the zone and fed a puck toward the crease. It eventually found Gaustad in the slot and, when Varlamov leaned right, he shot left, potting his first of the year.
Then the biggest negative happened.
Moments after the Predators goal, Steve Downie leveled Roman Josi in the corner. It appeared as if Downie launched himself at Josi and the principle point of contact was the head. Combine that with Downie's history and what Predators fans hope to see soon is a suspension. Josi left the game with an upper body injury and did not return.
Parenteau would add an empty netter but the story of the night was certainly the hit by Downie and, of course, the future of the Predators' blueline. The Swiss defenseman is one of just three Predators defensemen who have 100 games of NHL experience under their belt. If he's out for any length of time, that could spell trouble for an area of the ice that struggled last season.
Perhaps the three days off will help Josi recover from whatever ails him. Nashville's next game is the home opener on Tuesday against the Minnesota Wild. Puck drops at 7:00pm Central.
—
PHOTO CREDIT: Sarah Fuqua (used with permission)