Preds poised for bigger move: trade Franson, Lombardi to Leafs…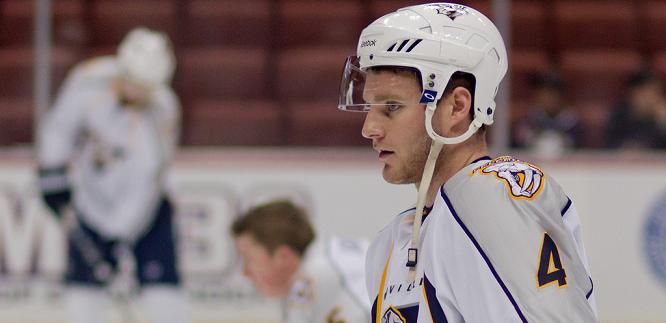 History will show that he donned a Nashville Predators sweater for four periods.
Injured forward Matthew Lombardi, along with defenseman Cody Franson, has been shipped to the Toronto Maple Leafs for stay-at-home (and much-maligned) defenseman Brett Lebda and minor leaguer Robert Slaney.
Since Lombardi was weighing down the available cap space while he was on the shelf, and Franson was a full-time player in Music City, this trade can only be seen as a move to clear cap space and a set up move for another trade and/or signing.
General Manager David Poile is up to something. That is undeniable.
Franson is an offensive defenseman who seemed to be "protected" a lot of the time. Head Coach Barry Trotz rarely put Franson on the ice against other teams' top forwards. That being said, you can't discount his importance to the power play. He may have only registered six power play points during the regular season last year but he could always be counted on to put the puck on net. Something Nashville has always struggled with. Franson's 156 shots were fourth most on the club and second among blueliners, behind only captain Shea Weber. Furthermore, he was second on the Preds in power play scoring during the playoffs (three points).
Essentially what the Maple Leafs are getting is a young power play quarterback and an injured top six forward. The forward may never see the ice again (in which case the Preds would give Toronto a fourth round pick in 2013, by the way) but the defenseman they're getting will be a key piece to the blueline for years to come. The only question mark with Franson is whether he'll be able to handle the Canadian media on a daily basis. Especially if going against top competition exposes some faults.
The Preds, on the other hand, are getting a guy who apparently is the butt of all jokes in Ontario. When word of the trade hit Twitter, our good friends over at Pension Plan Puppets tweeted THIS. Not a good sign for Nashville. But, because the Preds aren't necessarily looking for defensemen thanks to the depth in the system (Ryan Ellis, Roman Josi, Mattias Ekholm, etc.), Lebda could very easily be headed for the waiver wire en route to the Milwaukee Admirals.
As for Slaney, he's a left winger who's never seen time at the NHL level. Matter of fact, his entire pro career has been split between the Leafs' ECHL and AHL affiliates, the Reading Royals and Toronto Marlies, respectively. He did have semi-impressive seasons in junior, however. His 81 points in 2008-09 was tops on his Cape Breton Screaming Eagles club of the QMJHL. But make no mistake, Slaney is a depth forward for Milwaukee.
Franson will be missed and it's disappointing that Poile didn't get more mileage out of Lombardi but this transaction is absolutely a set-up move for something else. So hang onto your seats, Preds fans. Any moment now, they're going to blow you away.
—
PHOTO CREDIT: Bridget Samuels // special to section303.com (used with permission)