Preds muster just 17 shots, lose to Rangers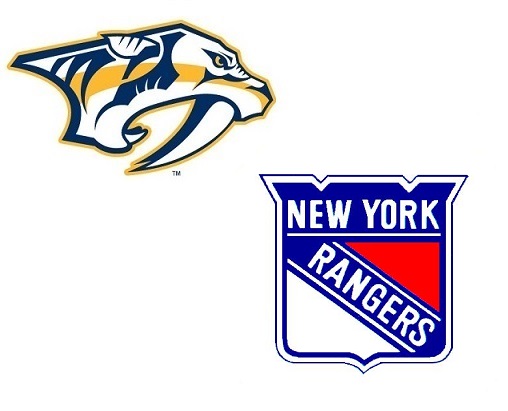 In a game that was originally supposed to feature two of the league's best featured two of the league's newest.
Instead of Pekka Rinne and Henrik Lundqvist, Saturday night's contest at Bridgestone Arena saw rookie goaltenders Marek Mazanec and Cam Talbot between the pipes for the Nashville Predators and New York Rangers, respectively.
Mazanec stopped an impressive 32 of 34 while Talbot was barely tested, turning aside all 17 shots he faced en route to the 2-0 victory at Bridgestone Arena.
"Another strong game," Rangers Head Coach Alain Vigneault said about his goaltender. "Didn't have as much work as he did in Montreal but when he was asked to make some saves, he made some saves."
Talbot, a former University of Alabama-Huntsville Charger, posted his second career shutout in just his sixth career NHL game.
Not to be out done, Mazanec made some tremendous stops in the second including a blind, through-the-legs pass by Brad Richards from behind the Predators net to Ryan Callahan who was standing at the top of the crease.
With 6:47 to go in the frame, however, Ryan McDonagh finally broke through by deflecting a Dan Girardi shot from the point. With so much traffic in front, it's a wonder Mazanec even knew a shot was coming.
"You could tell they were really pushing the pace," Predators Head Coach Barry Trotz said. "They were detailed and it was one of the those games where the first goal was going to mean a lot."
Nashville remained in the game until Viktor Stalberg turned the puck over midway through the third. Stalberg attempted to lead the rush from his own blueline but, in the neutral zone, coughed up the puck which led to a 2-on-1 for New York. Mats Zuccarello fed a cross-ice pass to Derek Stepan who one-timed it into the back of the net to make it 2-0, Rangers.
"That last one was tough," Nashville forward Craig Smith said. "We've got to limit our turnovers. They're a turnover team. They have some guys who can really turn it on in the neutral zone if they can get the puck moving on the backcheck."
"If you look at him, he was very determined to get up ice," Trotz said. "You know that they're trapping and they're going to jump you around the red (line). You've got to either move it and jump through or you've got to get it by that guy."
Losing out on two points is disappointing but even more so was the loss of Patric Hornqvist. During a Nashville power play in the first period, he appeared to take a shot in the midsection while trying to create some havoc in front of Talbot.
"It did hinder our efforts tonight because you're not going to get a pretty goal against them," Trotz said. "You're going to have to grunt it into the blue paint, you're going to have to get a whack at it, a secondary chance, and that's what Patric does. He goes into the hard areas, keeps puck alive, gets a screen, etc."
Hornqvist's absence meant a shuffling of forwards for pretty much the entire game, causing all kinds of different line combinations.
"Everyone knows their roll and everybody's going to do their job," Smith said. "It's not going to break any chemistry. I think the guys all know how to play the game, guys know how to get in the open areas for each other and they know the system."
Hornqvist is listed as day-to-day.
"We weren't good enough to win tonight," Trotz said. "They were a little bit better and they have a good hockey team so I give them some credit."
Nashville will try to get back to their winning ways on Monday night against the Phoenix Coyotes. The Coyotes are 14-5-4 on the season, good enough for fourth in the Pacific.
Puck drops at 7:00pm Central.
***
MY THREE STARS (as voted on with 5:57 left in regulation):
1. Ryan McDonagh (NYR)
2. Cam Talbot (NYR)
3. Marek Mazanec (NSH)
THE THREE STARS OF THE GAME:
1. Mats Zuccarello (NYR)
2. Ryan McDonagh (NYR)
3. Derek Stepan (NYR)