Preds play only 20 minutes, lose to Thrashers in other 40…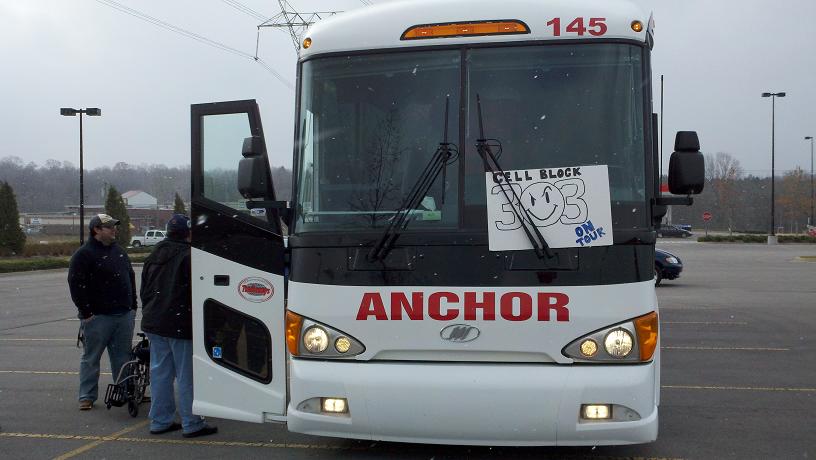 55 Nashville Predators fans on a bus, a driver named Wade and at least 100 other fans making the trip on their own unfortunately was not a recipe for success on this night.
Early goals by Colin Wison and Steve Sullivan weren't enough as the host Thrashers overcame an 2-0 deficit to beat the Preds 3-2 in overtime.
Anders Lindback made 34 saves in the loss.
The blame does not lie on Lindback, however. Did he look confident tonight? Not consistently. He certainly could've played better. But after the initial 20 minutes, Nashville never really had any chemistry and, at times, seemed completely out of sorts. Passes going nowhere, dump-ins despite plenty of time to generate a rush, even desperation passes out of the defensive zone when there was no need for desperation. Then, of course, there was the final play of the game.
On the deciding goal, Predators defenseman Kevin Klein appeared to think there was a penalty upcoming. Over by the boards — and without a stick — he delayed on touching the puck until he absolutely had to (much like a player does when his team is about to get a penalty) but then, upon kicking it, the Thrashers intercepted and carried into the offensive zone on an odd-man rush. Zach Bogosian wristed the winner by Lindback to give the Thrashers their seventh win in their last eight.
The Predators, by managing overtime, did secure a point in the standings. Given how things began, you would've liked to have seen them get both points and, all things being equal, they should have. But, at the end of the day, if you have to surrender a point, you want to surrender it to an Eastern Conference opponent. They did that tonight.
In a phrase we use all to often this season, Nashville will try and right the ship Wednesday in Detroit. Not exactly the place you go to try and right ships. But, then again, in years past, Atlanta was one of those places.
But, when you only play 20 minutes…
LEFTOVER THOUGHTS:
* Shea Weber took a high stick in the face late in the first period. No call was made. He missed almost an entire period getting stitched up and having a jaw shield attached to his helmet.
* The best line for the Predators was the Colin Wilson-Cal O'Reilly-Steve Sullivan line once again. Martin Erat and Sergei Kostitsyn, for as good as they looked together on Saturday, didn't develop much tonight.
* Thrashers goaltender Ondrej Pavelec saved the game for his team when O'Reilly had a golden opportunity with a partially empty net in the opening moments of the third. Pavelec – somehow – came up with the save.
* The Preds were an abysmal 29% in the face-off dot.
* Nashville only had one power play. Atlanta had four.
* The Predators, in their last two games, have had only two power play opportunities.
ROAD TRIP THOUGHTS:
On a personal note, it is no fun to see a loss in an away rink. Especially when you've been doing nothing but chants the entire first period. Despite the loss, however, a great time was had by all and we were told you could even hear our one section's volume on the broadcast. We have to be proud of that. Thank you to all who came out and made it a memorable day trip to Atlanta, Georgia.