Preds prospect Brendan Leipsic finishes as leading scorer in all of major junior…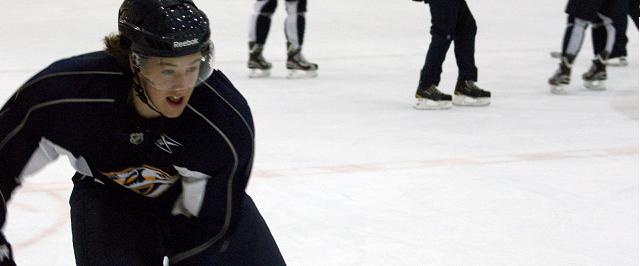 The Canadian Hockey League is made up of three regional leagues: the Western Hockey League, the Ontario Hockey League and the Quebec Major Junior Hockey League. And the Nashville Predators just so happen to have drafted the guy who led all three in scoring this year.
Portland Winterhawks winger Brendan Leipsic (pronounced LIPE-sick) blew up the WHL in 2012-13, tallying 49 goals and 71 assists en route to a monster 120 point season. The leader in the OHL was Florida Panthers prospect Vincent Trocheck of the Plymouth Whalers (109 points) and the QMJHL's leading scorer was undrafted Ben Duffy (110, a new Prince Edward Island Rocket franchise record) but nobody in all of major junior found the scoresheet more than Leipsic.
"Coming into this year, I didn't really know what to expect," Leipsic said. "I didn't think I'd be tied for the league lead in scoring but it ended up like that. I'm pretty happy with how things went this year."
The Winnipeg, Manitoba, native had talented linemates such as St. Louis Blues prospect Ty Rattie and 2013 draft eligible Nicolas Patan. While you can't achieve numbers like that without loads of talent yourself, the talent on the Winterhawks roster undeniably helped the Preds prospect achieve top status.
"I'm playing with two outstanding players," Leipsic said. "Those guys make it easy on me and it's a treat to play with them. As you can tell, we finished 1-2-3 in (WHL) scoring so we have great chemistry."
Patan actually had 120 points of his own but Leipsic did it in three less games, giving him the honor of top scorer.
Nashville drafted the 5'9″, 170 pound Leipsic in the third round of the 2012 NHL Entry Draft and, as Assistant General Manager Paul Fenton told us on The 303:30 a few weeks ago, the Predators are glad they did.
"Our guys love him," Fenton said. "He is not a very big kid but he plays with a lion's heart. He has incredible hockey sense, a hockey mind and obviously has the talent to be able to back it up. To score 100 points in the Western Hockey League early in February says an awful lot about his talent.
"We're really looking forward to having him in a couple years to develop into a top six forward here in Nashville."
Rarely does a member of the Predators brass come out and openly project a player as a "top six forward." General Manager David Poile was even undecided on how 2010 first rounder Austin Watson projected last summer.
One of the surprising things about Leipsic's performance was the improvement from last year to this year. His 58 points in 2011-12 were more than doubled this campaign.
"Last year I was playing more of an in-your-face type of game," Leipsic said. "Everytime I'd get on the forecheck I'd try to put somebody through the boards. This year, I'm still playing physical but the players I'm playing with are a little more offensive and I'm picking my spots better."
Predators fans eager to see if the 19-year old phenom can help the gold and white find the back of the net will have to temper their expectations a little longer. The NHL prevents any team from recalling junior players until their CHL season comes to an end. And with Portland finishing the regular season 57-12-1-2, clinching the Western Conference title and the Scotty Munroe Memorial Trophy as the owners of the league's best overall record, it'll be next season at the earliest. The Winterhawks play the Everett Silvertips in the opening round of the WHL playoffs starting Friday but, with a regular season that dominant, anything less than a Memorial Cup appearance would be disappointing.
"We've been to back-to-back WHL Finals and we know what it takes to get there," Leipsic said like a true leader. "There is no easy playoff series. We've got to take it each game at a time and we know that the regular season and my stats and my linemates stats doesn't really mean anything. Everybody's starting from zero and everybody's got an equal chance of getting to that Memorial Cup."
But, like he said, first things first. Leipsic will strive for a series win over Everett, then eventually a WHL Championship, then a Memorial Cup Championship and then Predators training camp in hopes of one day cracking the NHL roster.
"If I get that opportunity, it'll definitely be a crazy one," Leipsic admitted. "Everybody dreams of one day playing in the NHL and, hopefully, that day happens."
If he continues to produce at the rate he has been — whether it be back in junior or at the AHL level — it shouldn't be long before he realizes that dream.
—
SPECIAL THANKS to the Portland Winterhawks for all their help in securing the interview.
PHOTO CREDIT: Sarah Fuqua (used with permission)