Preds prospects Balisy, Watson impress in first game of USA Camp…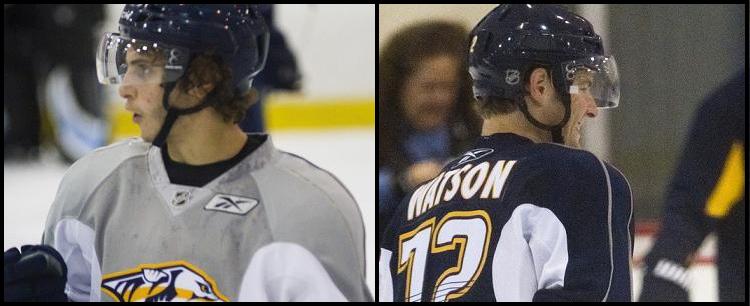 There are 44 players this week trying to impress the Team USA coaching staff so that they can earn a 2012 World Junior Championship roster spot come December.
It appears Nashville Predators prospects Austin Watson and Chase Balisy have an early leg up.
Balisy, Nashville's sixth round pick in this summer's NHL Draft, bagged two goals for USA Team White while Austin, the Preds' first round pick in 2010, scored two for USA Team Blue, including the game winner with just over five minutes remaining in last night's contest.
These games are part of the USA Hockey National Junior Evaluation Camp in Lake Placid, New York. The two US teams will be facing off against each other as well as games against Sweden and Finland. The entire schedule can be located HERE.
If you'd like to watch this afternoon's rematch, check out the live feed HERE. The game starts at 3:00pm Central.
The entire game recap is below, courtesy of USA Hockey.
****
LAKE PLACID, N.Y. — Austin Watson (Ann Arbor, Mich.) notched two goals to help USA Blue come from behind in the third period and earn a 4-3 win in the first of two intrasquad scrimmages at the 2011 USA Hockey National Junior Evaluation Camp.
The contest featured 44 U.S. players auditioning for a spot on the U.S. National Junior Team that will take part in the 2012 International Ice Hockey Federation World Junior Championship, Dec. 26, 2011-Jan. 5, 2012, in Calgary and Edmonton, Alta.
"I thought there was a lot of enthusiasm and excitement on the ice," said Dean Blais, head coach of the 2012 U.S. National Junior Team. "There was a lot of speed out there and the guys were making plays. I thought they competed hard."
Jason Zucker (Las Vegas, Nev.) got USA White on the board with a power-play goal at 11:21 when he received a cross-ice pass from Justin Faulk (South St. Paul, Minn.) at the top of the right circle and beat USA Blue goaltender Jack Campbell (Port Huron, Mich.) to the glove side.
USA Blue applied heavy pressure at the end of the first period, but goaltender Andy Iles (Ithaca, N.Y) held strong in the net for USA White. However, USA Blue scored two goals near the midway point of the second frame, from Nick Shore (Denver, Colo.) on the power play and Watson, to take a 2-1 lead going into the second intermission.
Chase Balisy (Rancho Santa Margarita, Calif.) scored back-to-back goals for USA White in the third period to help his squad reclaim the lead. Kenny Agostino (Flanders, N.J.) recorded assists on both tallies.
But T.J. Tynan (Orland Park, Ill.) banged home a goal past USA White netminder John Gibson(Pittsburgh, Pa.) and Watson tallied his second goal of the night 45 seconds later to give USA Blue the lead. USA White had several chances to tie the score at the end of the third period, but were unable to light the lamp.
Campbell made 29 saves in the victory, while Gibson and Iles combined for 28 stops.
The 2011 USA Hockey National Junior Evaluation Camp will feature one more U.S. intrasquad scrimmage tomorrow (Aug. 7) before switching to international games between the United States, Finland and Sweden Aug. 8-13. A full schedule is below.
NOTES: Stephen Michalek (Hartford, Conn.) will replace Will Yanakeff, who withdrew from the 2011 USA Hockey National Junior Evaluation Camp due to injury. Yanakeff was replacing Mac Carruth, who was unable to attend the camp due to injury. … The 2012 U.S. National Junior Team will be selected in late December following a pre-tournament camp to be held in Alberta, Canada … All games from the 2011 USA Hockey National Junior Evaluation Camp will be streamed live and on demand at FASTHockey.com … Dean Blais, head men's ice hockey coach at the University of Nebraska Omaha, will serve as head coach of the 2012 U.S. National Junior Team. He will be assisted by Scott Sandelin, head men's ice hockey coach at the University of Minnesota Duluth; Tom Ward, head ice hockey coach of the Shattuck-St. Mary's School's boys' prep team; and Joe Exter, assistant men's ice hockey coach at The Ohio State University … Dan Bylsma, head coach of the National Hockey League's Pittsburgh Penguins, and Mike Sullivan, assistant coach of the NHL's New York Rangers, will also participate in Lake Placid as camp coaches … Jim Johannson, USA Hockey's assistant executive director of hockey operations, is serving as the general manager of Team USA for the third consecutive year. Tim Taylor (Guilford, Conn.), former U.S. Olympic Men's Ice Hockey Team head coach and longtime Yale University men's ice hockey team head coach, is also serving his third straight year as Team USA's director of player personnel.
GAME SUMMARY
Scoring By Period
| | | | | |
| --- | --- | --- | --- | --- |
| BLU | 0 – | 2 – | 2 – | 4 |
| WHT | 1 – | 0 – | 2 – | 3 |
First Period – Scoring: 1, WHT, Zucker (Faulk, Coyle) 11:21 (pp). Penalties: BLU, Nieto, (hooking), 9:04; BLU, Mayfield (cross-checking) 18:25.
Second Period – Scoring: 2, BLU, Shore (Tinordi, Murphy), 7:47 (pp); 3, BLU Watson (Prince), 9:53. Penalties: WHT, Miller, (high-sticking), 7:12; WHT, Mayfield (high-sticking), 9:30.
Third Period – Scoring: 4, WHT, Balisy (Agostino, Ferlin), 1:55; 5, WHT, Balisy (Agostino, Faulk) 11:33; 6, BLU, Tynan (Noesen), 14:44; 7, BLU, Watson (Prince, Clendening), 14:39. Penalties: BLU, Brickley (slashing), 2:04; WHT, Holl (interference), 7:48.
| | | | | |
| --- | --- | --- | --- | --- |
| Shots by Period | 1 | 2 | 3 | Total |
| BLU | 13 | 10 | 9 | 32 |
| WHT | 8 | 16 | 8 | 32 |
| | | | | |
| Goaltenders (SH/SV) | 1 | 2 | 3 | Total |
| BLU, Campbell 60:00 | 8-7 | 16-16 | 8-6 | 32-29 |
| WHT, Iles 39:24 | 13-13 | 5-5 | — | 18-18 |
| WHT, Gibson 40:36 | — | 5-3 | 9-7 | 14-10 |
Power Play: BLU 1-4; WHT 1-2
Penalties: BLU 4-8; WHT 2-4
—
PHOTO CREDIT: Rachel Addison // Rachel Addison Photography (used with permission)