PRESS RELEASE: Blum, Geoffrion recalled from Milwuakee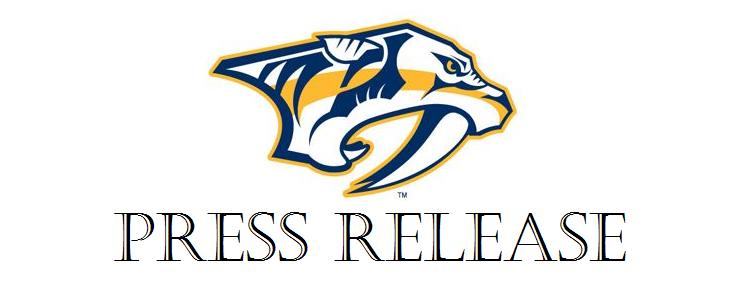 As expected, Predators rookie defenseman Jon Blum and forward Blake Geoffrion have been recalled from the Milwaukee Admirals. They were sent down last week in order to get some playing time.
Blum had been a healthy scratch for the first time in his NHL career and Geoffrion was returning from an injury. Instead of keep the players with the big club, limiting their ice time only to practices, it was the team's philosophy to send them to Milwaukee where they'd log valuable minutes during game action.
Both Blum and Geoffrion played in three games during their cup of coffee with the Admirals. The defenseman registered two goals while Geoffrion collected an assist, ironically on Blum's first marker.
Also of note, tonight at 11:00pm Central begins the NHL's annual holiday roster freeze. No trades can be made from December 20 through Tuesday, December 27.
The Predators' official press release is below.
****
NASHVILLE PREDATORS RECALL GEOFFRION AND BLUM FROM MILWAUKEE
Nashville, Tenn. (December 19, 2011) – Nashville Predators President of Hockey Operations/General Manager David Poile announced today that the club has recalled forward Blake Geoffrion and defenseman Jonathon Blum from Milwaukee (AHL).
Geoffrion, 23 (2/3/88), has two assists in 19 games for the Predators this season. He was assigned to the Admirals after missing six NHL games from Nov. 29-Dec. 10 due to an upper body injury, where he notched an assist in three AHL games.
Blum, 22 (1/30/89), has five points (2g-3a) in 27 games for the Predators in 2011-12. He also spent three games with Milwaukee, scoring a pair of goals.
After Saturday's 2-1 shootout win over the St. Louis Blues, the Preds look to make to make it six-straight victories when they head to the nation's capital to take on the Washington Capitals tomorrow night (6 p.m. Fox Sports Tennessee, 102.5 The Game). The Preds return home on Thursday when they face off against the Columbus Blue Jackets for a College Night showdown in Smashville (7 p.m., 102.5 The Game).