PRESS RELEASE: Help decide the 2012-13 marketing campaign for your Nashville Predators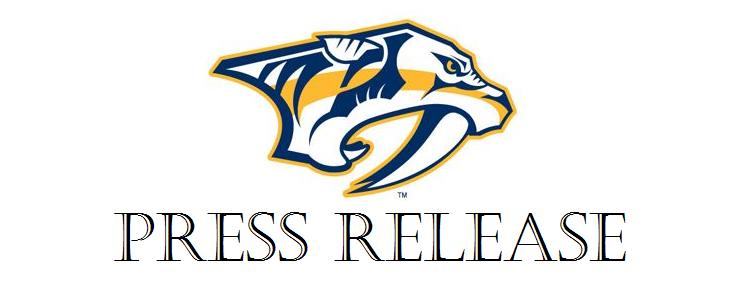 NASHVILLE PREDATORS KICK OFF 2012-13 MARKETING CAMPAIGN WITH FAN CHALLENGE
-Fans will have the opportunity to create the 2012-13 campaign through new social media contest #MySmashville –
Nashville, Tenn. (June 25, 2012) – In the past, Smashville "Stayed With You." It had a "Population of 17,113." Last season "Heroes Played Here." This season, we're letting the citizens of Smashville, decide just what Smashville means to them with the #MySmashville social media fan challenge.
In 2002, the concept of Smashville was created by a Season Ticket Holder to embody the excitement a person feels when they are part of the Nashville Predators community. Now, in 2012 we are handing the reins over to the fans once again, allowing them to help create this season's Smashville tagline. We want to hear from the pulse of our organization, the fans, to find out what Smashville means to them. Over the course of a three week contest, fans will have the opportunity to submit their tagline for consideration. The winning tagline will appear in select media throughout the 2012-13 season and the winner will receive a bounty of prizes including a pair of 2012-13 Season Tickets, a TV broadcast segment with Pete Weber and Terry Crisp, a radio segment on 102.5 The Game and more!
"The city of Nashville is filled to the brim with athletes, artists, intellectuals and creative types," Nashville Predators and Bridgestone Arena Executive Vice President Chris Parker said. "We are really excited to see some of that creativity come to life with this contest. We have loyal fans that support our organization with immense passion, and this contest is not only for them but for anyone looking to flex their creative muscle.
"Submissions should embody the athletic competition, family entertainment and music city flair the Nashville Predators have become synonymous with. We want people to think about the team as fast, tough, exciting, talented and hardworking on the ice and as friendly, committed and community oriented off the ice. These are the elements we hope the winning tagline will embrace and showcase."
The contest kicks off today, Monday, June 25 at noon and runs through Wednesday, July 23 at 11:59 p.m. The winner will be selected on or about Monday, July 27. To enter, visitnashvillepredators.com/mysmashville and fill out the submission form. Make sure to include elements such as Instagram photos, YouTube videos and social media posts. Be creative! Show the Nashville Predators why your tagline should be chosen! Make sure to tag all social media with #MySmashville.
RULES AND GUIDELINES
All submissions will be judged based on the following criteria:
·         Creativity of the tagline
·         Adhering to the focus/guidelines set forth by the Nashville Predators
·         Promotion of tagline
·         Bringing your tagline to life through social media
·         Most importantly, participants do not need to be hardcore hockey fans to enter this challenge.
When creating your tagline, there are a few key rules and regulations that should be adhered to. First and foremost, make sure to keep it clean, professional and age appropriate. All submissions must include "Smashville" before the tagline (i.e. Smashville Heroes Play Here, Smashville It Stays With You, Smashville Population 17,113). Keep in mind that taglines could appear on all forms of media, from print and TV to outdoor billboards or online – therefore, keep it short and simple. Additionally, all contest submissions are property of the Nashville Predators. For more information or to submit a tagline, visit nashvillepredators.com/mysmashville.