PRESS RELEASE: Individual game tix go on sale Saturday!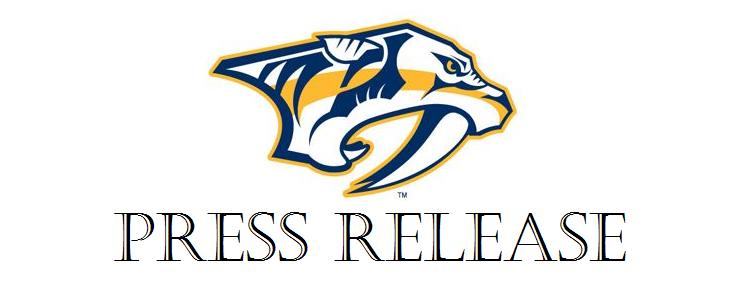 INDIVIDUAL GAME TICKETS FOR THE NASHVILLE PREDATORS 2011-12 SEASON GO ON SALE THIS SATURDAY, SEPT. 10 AT 9 A.M.
-Bridgestone Arena's box office will open at 9 a.m. to give fans the first opportunity to purchase $10 tickets for the first half of the season-
Nashville, Tenn. (September 6, 2011) – Nashville Predators fans can take advantage of a pre-sale and purchase individual game tickets for the first half of the 2011-12 regular season starting at 9 a.m. this Saturday, Sept. 10 at the Bridgestone Arena box office, prior to the general public sale that begins at 10 a.m. where tickets can then be purchased at the box office, online or by phone.
Last season, the Predators sold out 16 regular-season games and averaged more than 16,000 fans a game, and this Saturday will be the very first opportunity for non-season ticketholders to take part in another exhilarating season of Nashville Predators hockey. Starting at just $10, individual game tickets may be purchased at the Bridgestone Arena box office beginning at 9 a.m. or through all Ticketmaster outlets, Ticketmaster.com, nashvillepredators.com and (615) 770-PUCK(7825) starting at 10 a.m.
When the Bridgestone Arena box office opens at 9 a.m. this Saturday, the Predators will offer $10 tickets for each game of the first half of the 2011-12 regular season. These specially discounted tickets can only be purchased at the box office on the morning of Sept. 10.  There is a limit of four tickets per customer and a maximum of four games per transaction. Additionally, there will be coffee and donuts provided by Dunkin' Donuts as well as a city-wide scavenger hunt for Nashville Predators season tickets kicking off at Bridgestone Arena. For more information on the scavenger hunt, please visitnashvillepredators.com/hunt.
"Nashville Predators' tickets remain a fantastic value, with an exciting team, tremendous game atmosphere and Bridgestone Arena enhancements," Nashville Predators Chief Executive Officer Jeff Cogen said. "There are seats and packages to fit every fan's budget and schedule, from $10 specials to season tickets on the glass. Our fans have made Bridgestone Arena one of the best home-ice advantages in the League and we look forward to seeing new and returning fans this season."
The first half of the 2011-12 home season, which opens on Thursday, Oct. 13 vs. the Phoenix Coyotes, is highlighted by eight Saturday games, the 1,000th game in franchise history on Nov. 12 vs. the Montreal Canadiens (special 6 p.m. start time), a holiday visit from the reigning Central Division Champion Detroit Red Wings on Dec. 26 and the opportunity to ring in the New Year in Smashville as the Calgary Flames come to town for a New Year's Day matchup. The first half of the 2011-12 home season culminates with a Saturday night faceoff against the Carolina Hurricanes on Jan. 7.
Season ticketholders will continue to receive the biggest savings, reserved seating and most comprehensive benefits of all fans, as this week the Preds are holding an exclusive pre-sale where season ticketholders can purchase additional game tickets prior to the public sale.
The 2011-12 season will also feature the return several promotional nights designed with the fans in mind. With these promotional nights, the Predators hope to provide all fans with the opportunity to take in a game, regardless of the price. More information will be available on theme nights in the coming weeks.
The Predators kick off their pre-season schedule on Monday, Sept. 19 at Florida, then take on the Washington Capitals on Sept. 20 and Carolina on Sept. 23 before returning home on Saturday, Sept. 24 to host the Winnipeg Jets. The club's annual PredsFest game will be the preseason finale on Oct. 1 vs. the Hurricanes. Season tickets for the 2011-12 Nashville Predators season in Smashville are on sale now and start at just $19 per game. Great interest-free payment plans are currently available for Full Season, Half Season and Flex 12 packages. For information on all our season ticket packages, visit nashvillepredators.com/seasonticket or contact a ticket representative at 615-770-7800.