PRESS RELEASE: Milwaukee names Pekka Rinne best Admiral of all-time!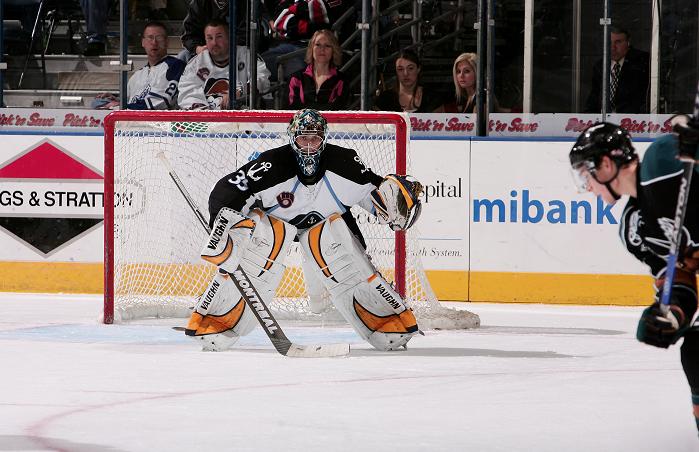 RINNE SELECTED AS TOP ADMIRAL OF ALL-TIME
 Countdown Celebrates 35 Years of Professional Hockey
Milwaukee, WI—In conjunction with the team's celebration of 35 Years of Professional Hockey, presented by BMO Harris Bank, the Milwaukee Admirals are proud to announce that goaltender Pekka Rinne has been selected as the Top Admiral of All-Time as determined by a combination of fan vote, conducted earlier this season, and a panel of Admirals experts comprised of former players, coaches, and management.
Rinne come to Milwaukee in 2005 as the presumed back-up to Brian Finley. However, his play early on dictated that the be elevated to the number role, a job he wouldn't relinquish for the remainder of his time with the Admirals. In his rookie season he finished with 30 wins, was selected as the starting goalie in the AHL All-Star game, and helped to guide the Admirals to the Calder Cup Finals.
The Kempele, Finland native missed the first half of the 2007-08 campaign with an injury, but returned to the team in January and went on to post a 15-7-6 record with a 2.34 goals against average, and a .920 save percentage.
Rinne was a workhorse for the Admirals during his final season with the club in 2007-08. He played in 65 of the team's 80 games, third most in franchise history, and tied a team record with 36 wins. Rinne was again selected to play in the AHL All-Star Game and led the league in wins, minutes played (3840), and was fourth with five shutouts.\
Since his time with the Ads, Rinne has gone on to become one of the top goalie in the NHL with the Nashville Predators. He is a two-time finalist for the Vezina Trophy, second in Predators history in wins and first in shutouts.
To see the complete rankings and for interviews with many of the Top 35, team records, the Admirals All-Time Roster, and more about our celebration of 35 Years of Professional Hockey please visit www.milwaukeeadmirals.com/35.