PRESS RELEASE: NHL realignment approved for 2012-13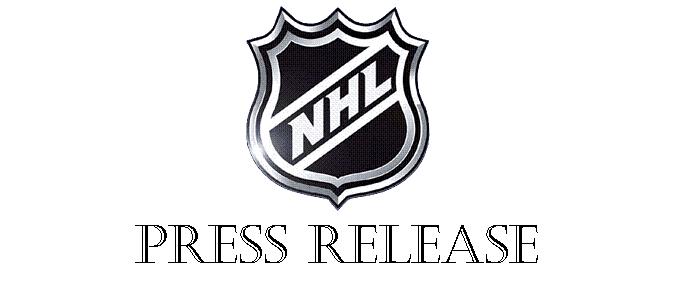 PEBBLE BEACH, Calif. (Dec. 5, 2011) – The National Hockey League Board of Governors tonight approved a four-Conference alignment format and authorized Commissioner Gary Bettman to implement this proposal, pending input from the National Hockey League Players' Association. The format would create two eight-team Conferences and two seven-team conferences.
Under the format, every team would play every other team outside its conference twice – once home, once away.
In the seven-team Conferences, teams would play six times – three home, three away. In the eight-team Conferences, teams would play either five or six times in a season on a rotating basis; three teams would play each other six times and four teams would play each other five times. This process would reverse each season: An eight-team Conference member that plays an opponent six times in one season would play it five times the following season.
The top four teams in each Conference qualify for the Stanley Cup Playoffs. The first-place team would play the fourth-place team; the second-place team would play the third-place team. The four respective Conference champions would meet in the third round of the Playoffs, with the survivors playing for the Stanley Cup.
The Conference format:
CONF. A    CONF. B   CONF. C   CONF. D
Anaheim    Chicago     Boston     Carolina
Calgary     Columbus   Buffalo      NJ Devils
Colorado      Dallas      Florida    NY Islanders
Edmonton    Detroit     Montreal   NY Rangers
Los Angeles Minnesota Ottawa    Philadelphia
Phoenix      Nashville  Tampa Bay  Pittsburgh
San Jose    St. Louis   Toronto     Washington
Vancouver   Winnipeg