PRESS RELEASE: Predators announce TV schedule for 2013 season…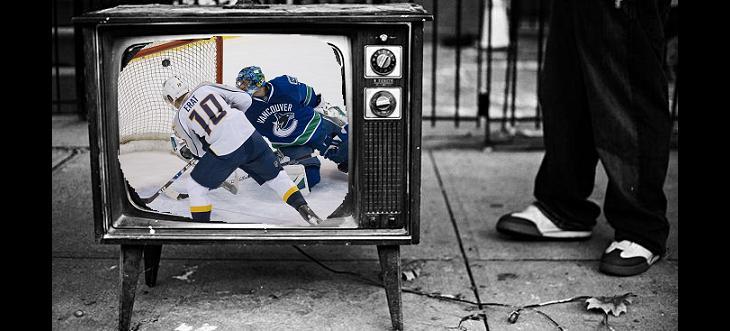 NASHVILLE PREDATORS ANNOUNCE
2012-13 TELEVISION SCHEDULE
-All games scheduled to be televised for the first time in franchise history in exciting, condensed season-
Nashville, Tenn. (January 15, 2013) – The Nashville Predators announced today that the team's exclusive regional television partner FOX Sports Tennessee (FSTN) will televise 46 of 48 regular-season games during the 2012-2013 NHL season. The remaining two games will be broadcast on the NBC Sports Network. All games will be televised in HD. 

The Nashville Predators TV schedule, along with the NHL's national package, assures that for the first time ever, all Nashville Predators games will be broadcast, with all 24 road games (24 on FSTN/SPSO) and all 24 home contests (22 FSTN/SPSO, two on NBCSN) scheduled to be televised. Three of the Predators' 48 games will be televised on FOX Sports Tennessee's sister network, SportSouth (SPSO). Predators' telecasts reach households across Tennessee, Kentucky and portions of Alabama and Mississippi. Additionally, 21 Nashville Predators games will be broadcast in the Atlanta market and throughout Georgia.
"With all games televised in this exhilarating 48-game sprint to the Stanley Cup Playoffs, we are extremely excited that Predators fans won't miss a single minute of the action," Executive Vice President Chris Parker said. "With exclusively Intra-Conference games and playoff races right out of the gate, every contest will be a must watch! We greatly appreciate FOX Sports Tennessee's commitment to accommodating our schedule and we look forward to working with them to create quality broadcasts again this season."
Coverage begins on Fox Sports Tennessee with the Predators opening their 15th season with a pair of home games against Central Division rivals. Opening Night sees the Columbus Blue Jackets come to town on Saturday, Jan. 19 at 7 p.m., followed by the St. Louis Blues on Monday, Jan. 21 at 5 p.m. The Predators take the national stage on Saturday, Feb. 25 at home vs. the Dallas Stars and Sunday, April 14 at home vs. the Detroit Red Wings, with both games televised on the NBC Sports Network. Other highlights from the 2012-13 telecast schedule include five games apiece against Central Division opponents Columbus and Chicago, and four games vs. Detroit and St. Louis. The Predators play all other Western Conference teams three times each. In addition to televised games, all contests will also be aired on the Nashville Predators flagship radio station 102.5 The Game.
The FOX Sports Tennessee broadcast duo of play-by-play announcer and NSSA Tennessee Sportscaster of the Year Pete Weber and analyst Terry Crisp enter their fifteenth season calling Predators' action.  In addition to game telecasts, Weber and Crisp co-host LEXUS Predators LIVE, an extended post-game coverage show after every game on FOX Sports Tennessee and SportSouth. Returning for his fifth season is Mark Howard, rinkside reporter for all Predators home games.
The Predators and Fox Sports are currently nominated for two Midsouth Emmy Awards, which will be announced on Saturday, January 26th.  The first is for coverage of Game Five of the 2012 Western Conference Quarterfinals between the Predators and Red Wings.  The second is for the Predators-produced documentary "Gold Record:  50 Years of Hockey History in Music City." Ratings for Nashville Predators broadcasts on the FOX Sports networks saw a 40 percent increase from 2010-11 to the 2011-12 season. The team's 5.2 rating on SportSouth for Game Five of the 2012 Western Conference Quarterfinals against Detroit was the highest playoff rating in franchise history, reaching 53,000 households.
Tickets for the first two games of the Nashville Predators 2012-13 season are on sale now with limited availability at the Bridgestone Arena box office, through all Ticketmaster outlets, Ticketmaster.com, nashvillepredators.com and (615) 770-7800. Season ticketholders continue to receive the biggest savings, reserved seating and most comprehensive benefits of all fans, with an exclusive pre-sale through Thursday, Jan. 17 for all 2012-13 home games. Tickets for all other 2012-13 regular season games go on sale to the general public on Friday, Jan. 18 at 10 a.m. through all outlets.
The FOX Sports regional networks serving the Southeast – FOX Sports South, FOX Sports Carolinas, FOX Sports Tennessee and SportSouth – collectively reach more than 12.9 million cable and satellite households in seven states across the Southeast.  They are the television home of the Atlanta Braves, Atlanta Hawks, Carolina Hurricanes, Charlotte Bobcats, Memphis Grizzlies and Nashville Predators, as well as the Atlantic Coast Conference, Southeastern Conference and Conference USA, and offer expanded coverage of the University of Kentucky, University of South Carolina and University of Tennessee.  Combined, the four networks produce more than 800 live local events each year.  For more information, please visit FOXSportsSouth.com, FOXSportsCarolinas.com and FOXSportsTennessee.com.
Open Practice: The Nashville Predators will host an open practice at Bridgestone Arena tomorrow, Wednesday, Jan. 16 scheduled for 10 a.m.-11:30 a.m. Free parking will be available in the Bridgestone Arena Sixth Avenue garage. The Nashville Predators Pro Shop will be open, as well as select concession stands.