PRESS RELEASE: Preds and Admirals extend affiliation agreement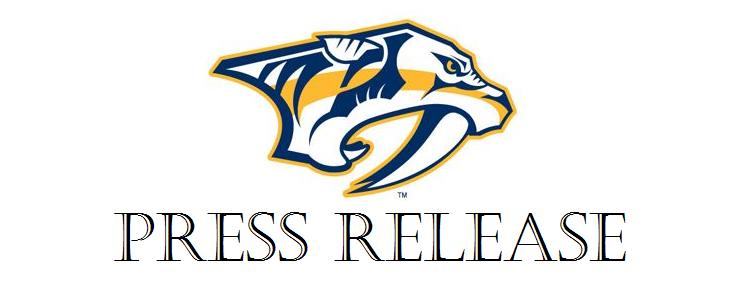 NASHVILLE PREDATORS EXTEND AFFILIATION AGREEMENT WITH THE AHL'S MILWAUKEE ADMIRALS
–   Preds' top affiliate has reached playoffs in 13 of 14 seasons; have won four division titles in the last eight years –
Nashville, Tenn. (February 16, 2012) – Nashville Predators President of Hockey Operations/General Manager David Poile announced today that the club has extended its affiliation agreement with the Milwaukee Admirals of the American Hockey League through the 2013-14 season. The agreement also has a mutual option for the 2014-15 season.
"Our organization has been philosophically committed to an affiliation in which the road to Nashville goes through Milwaukee," Poile said. Our current roster supports this philosophy. The Milwaukee Admirals have cultivated a winning tradition, as evidenced by their nine consecutive trips to the playoffs – including a Calder Cup Championship in 2004 and another appearance in the Calder Cup Finals in 2006. Led by Harris Turer, the Milwaukee ownership group has assembled a bright and dedicated staff headed by President Jon Greenberg, that has created a major league environment for our prospects.
"With the Milwaukee organization working together with ours, led by Paul Fenton [Milwaukee's general manager and Nashville's assistant GM], this has been and will continue to be a partnership that rewards both teams, and most importantly, the hockey fans in both cities."
The Predators and Admirals have functioned as affiliates since Nashville's inception in 1998-99, and more than 120 players have played at least one game for both teams in the past 14 season. Additionally, Predators associate coach Peter Horachek served as the head coach of the Admirals in 2002-03 and Predators first-year assistant Lane Lambert was the bench boss in Milwaukee for four season from 2007-11.
This season alone, forwards Chris Mueller, Kyle Wilson, Ryan Thang, Gabriel Bourque, Zack Stortini, and Blake Geoffrion; defensemen Ryan Ellis, Teemu Laakso, Jonathon Blum and Roman Josi; and goaltender Anders Lindback have appeared in games for both Nashville and Milwaukee.
Nearly all of Nashville's core players spent time with the Admirals: three-time All-Star, 2011 Norris Trophy Runner-up and Predators captain Shea Weber started his pro career with Milwaukee in 2005-06; 2012 All-Star defenseman Ryan Suter played the 2004-05 season with the Admirals; and 2011 Vezina Trophy runner-up Pekka Rinne spent his first three seasons in North America with the Ads from 2005-08. Other Nashville Predators that spent time developing in Milwaukee include forwards Martin Erat, Patric Hornqvist, Jerred Smithson, Jordin Tootoo, Nick Spaling, Matt Halischuk and Colin Wilson and defenseman Kevin Klein.
The Admirals are the only team in the AHL to finish with at least 40 wins and 90 points in eight consecutive seasons (2003-11), finishing with 100-plus points and winning four West Division titles in that span. They entered the 2011-12 season with the second-most points in the AHL since joining in 2001-02 after 24 seasons in the International Hockey League.