PRESS RELEASE: Preds extend GM David Poile through 2014-15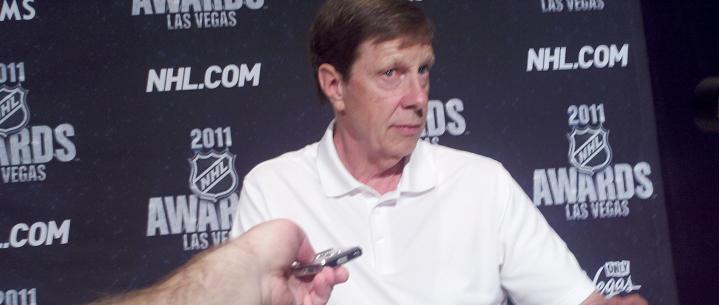 Nashville, Tenn. (February 20, 2012) – The only General Manager in franchise history and the only one to be a finalist for the NHL GM of the Year Award in each of the last two seasons, David Poile, has been awarded a contract through the 2014-15 season, announced Predators' Chairman Tom Cigarran today. Poile also announced an extension of Assistant General Manager Paul Fenton.
"Today's announcement is further recognition by the Predators' ownership group of the outstanding job David has done as President of Hockey Operations since the franchise's inception," Cigarran said. "The consistent success of the Predators on the ice is directly attributed to his ability to assemble and lead a team of management, coaches, scouts and administrators who continually identify, draft, develop and motive an exceptional group of experienced and young players. The ownership group believes that under his leadership, the Nashville Predators will soon achieve its goal of winning the Stanley Cup."
Poile's Predators team is bidding for its seventh playoff berth in the last eight seasons. The Predators are one of just six teams to have qualified for the playoffs in six of the last seven seasons, having been a model of consistency in winning 40 or more games in each of the previous six seasons.  Also, the Predators' top affiliate, the American Hockey League's Milwaukee Admirals, are the first team in AHL history to win 40 or more games and total 90 or more points in eight consecutive seasons while en route to nine straight playoff berths.
The current Predators roster includes 15 players drafted and developed by the Predators, four acquired via trade, three free agents and two selected via waivers.
Under Poile's direction and philosophy, the Hockey Department has been marked by excellence, stability and consistency; Fenton has been with the organization since 1998, Head Coach Barry Trotz is the only head coach in franchise history, Goaltending Coach Mitch Korn has been with the club since 1998 and Hockey Operations Advisor Brent Peterson has been a part of the organization for all 14 years.
In NHL history, Poile now stands third on the all-time General Managers list for games won (1,049 entering this season) and he will move into second place on the all-time GM list for games (2,235) on March 17, when he will pass Harry Sinden and be only behind Glen Sather.
A 2001 Lester Patrick Award winner for contributions to hockey in the United States, Poile also served as Associate General Manager on USA's Silver Medal-winning Olympic Team in 2010 and he continues to serve on the NHL's Competition Committee.
Now in his sixth season as assistant GM, after serving as the franchise's director of player personnel for its first eight campaigns, Fenton has been instrumental in bringing in many of Nashville's core players, primarily through the draft, but also through trades and free agent signings.
"I appreciate ownership's support and, as importantly, ownership's commitment to building a Stanley Cup winner here in Nashville," Poile said. "We are in our Window of Opportunity and I look forward to working with ownership, our staff and players to reach our goals.
"Paul's vast experience in the game, from playing at the NHL level to scouting and evaluation, combine to make him an integral and invaluable member of our organization. We're thrilled that he will continue to play a key role in our hockey operations."
In addition to overseeing the Predators' amateur player development and managing the team's professional and amateur scouting staff, Fenton serves as general manager of the Milwaukee Admirals and helps head up Nashville's efforts at the annual Entry Draft. He also served as Associate GM for Team USA at the 2011 World Championships.
Fenton joined the Predators after spending five seasons in the Anaheim Ducks' hockey operations department.  Prior to joining the Ducks, Fenton played eight seasons in the NHL, amassing 100 goals and 83 assists in 411 contests.