PRESS RELEASE: Registration for the G.O.A.L. program now open!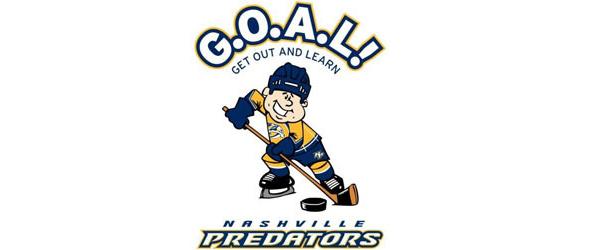 REGISTRATION FOR UPCOMING G.O.A.L!
SESSION SET FOR TUESDAY, OCT. 2 AT 9 A.M.
-Free learn-to-play series has seen more than 2000 families graduate from program-
Nashville, Tenn. (September 26, 2012) – Next Tuesday, Oct. 2 at 9 a.m., the Nashville Predators will begin taking applicants for its upcoming session of Get Out And Learn! (G.O.A.L!) – held two Fridays in October (19 and 26) and two in November (9 and 16) from 5:25-6:15 p.m. at A-Game (215 Gothic Court, Franklin). Space is limited and registration can only be accessed through nashvillepredators.com/goal.
G.O.A.L! is a free on-ice youth hockey program hosted by the Predators in association with local ice rinks.  Designed for boys and girls (ages 5-8) with no prior skating or hockey experience, the four-week program introduces the sport of ice hockey to kids while teaching the life experiences of teamwork, sportsmanship and self-confidence through athletic participation. Since October 2006, more than 2000 families have graduated from G.O.A.L!
Full hockey equipment, including skate rental, is provided free of charge. Once the four-week session is complete, hockey programs at both A-Game and Centennial Sportsplex will be available for continued development.
The Nashville Predators are dedicated to supporting youth hockey at all levels and recognize the need for local skating facilities to be accessible for beginners to help to grow the sport.  The Nashville Predators' G.O.A.L! program is offered multiple times throughout the year; for more information, visit nashvillepredators.com/goal.