Previewing the Predators' forwards for 2011-12, part five…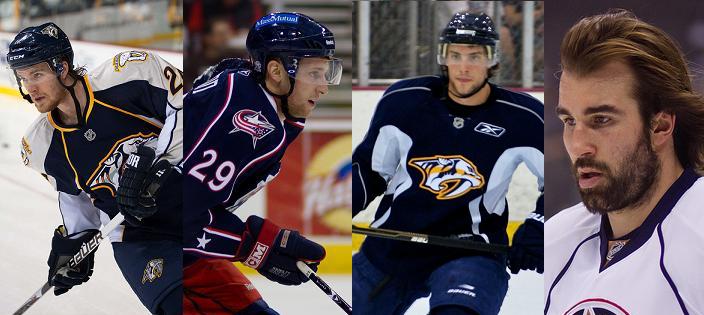 THIS IS THE FIFTH IN OUR MULTI-PART SERIES PREVIEWING THE 2011-12 NASHVILLE PREDATORS ROSTER. A NEW INSTALLMENT WILL BE POSTED DAILY, THROUGH AUGUST 26.
—
If you missed yesterday's post featuring Jordin Tootoo, Jerred Smithson and Nick Spaling, CLICK HERE.
—
ON THE OUTSIDE LOOKING IN
Young veteran Matt Halischuk was a clutch performer for the Predators last season but he's the victim of a numbers game. He can still be sent down to Milwaukee because of his limited NHL experience and, because of that, it'll be either him or Blake Geoffrion that dons an Admirals sweater in October.
Prospects like Taylor Beck, Michael Latta and Craig Smith have outside chances of cracking the opening night lineup but are probably better suited to hone their skills in the AHL first. Latta and Beck have each only played 12 professional hockey games in their careers and Smith just left college so he hasn't played any. They'll need to get acclimated to the speed and power of the pro game before they can earn a spot on an NHL roster. That being said, Beck did almost make the team out of camp last year so it wouldn't be shocking to see him (or Smith) edge someone out.
Another prospect, Patrick Cehlin, will most likely stay in Sweden for one more season but don't be surprised if you hear his name tossed around with the word "impressive" next to it come training camp.
Finally, free agent signee's Zack Stortini and Kyle Wilson each have a chance at the big club but their wearing Predator Gold all depends on how the younger guys fare in camp. If Halischuk and Geoffrion show they're worth the risk, then Stortini and Wilson will begin their 2011-12 campaign inside Bradley Center up in Milwaukee.
—
PHOTO CREDIT: Bridget Samuels and Sarah Fuqua